Save on your staffing with Job Post
Staffing and job advertising fees can add up quickly, with costs in the high 6 digits in some industries. You work hard to hire a lot of candidates in a short amount of time and to build the best candidate experience. Wouldn't it be nice to get more out of that investment—without having to spend more time or budget?
VONQ Job Post is an automation solution for high volume recruitment that reduces complexity and saves you time. Simply and automatically distribute jobs to multiple sources, including programmatic advertising. Then use the ROI reports to make informed decisions about which sources deliver candidates at the lowest cost.
Get a demo. Save time. Recruit more.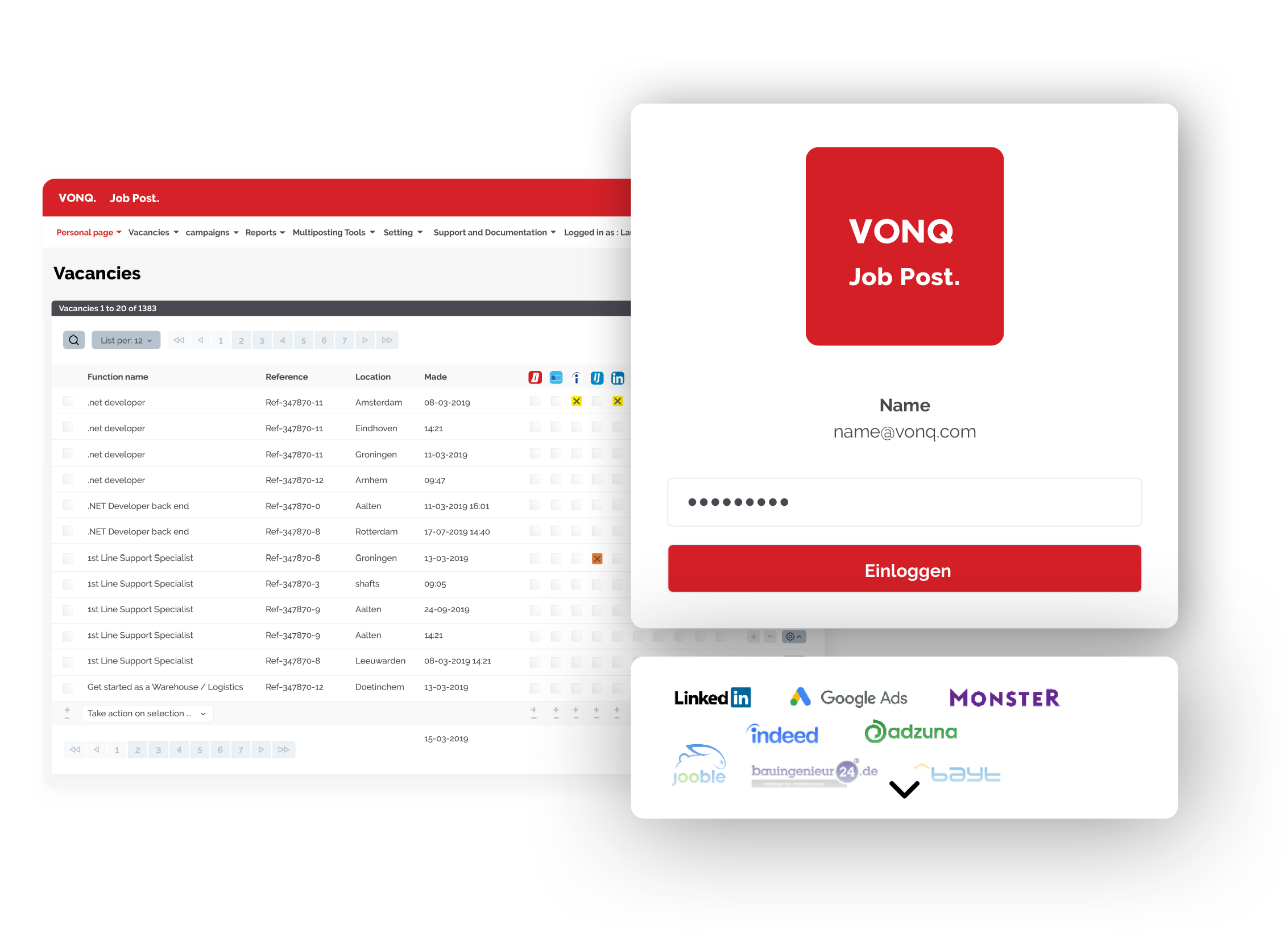 Our team points out what makes Job Post unique among recruiting technologies
One click to distribute your jobs. Really.
"Job Post is easy to set up and designed to connect seamlessly to your applicant tracking system. Then it's just one click to post your jobs to over 1000 channels from your ATS."
- David Haessig
One solution for programmatic & traditional online advertising
"Unlike other staffing software that have one tool for traditional job distribution and a separate one for programmatic advertising, Job Post offers both options in one solution."
- Bart van der Werf
Optimize your ROI from post to hire
"With the Programmatic Add-on track the entire candidate journey from click to hire and see in simple reports which sources are worth investing in. And stop using the rest."
- Peter Nieuwpoort
One invoice reduces complexity
"Choose from over 8 pre-contracted media and get one invoice for all of them."
- Tycho van Paassen
Digitalization to instantly distribute jobs and save time
That's right: Job Post can be fully automated and has over a 1000 channels to post on, including programmatic advertising. Connect it to your human capital management or applicant tracking system, define a set of fully customizable rules for which jobs should be distributed to which sources, and post jobs in one click or even automatically from your ATS. Lookie here: no hands!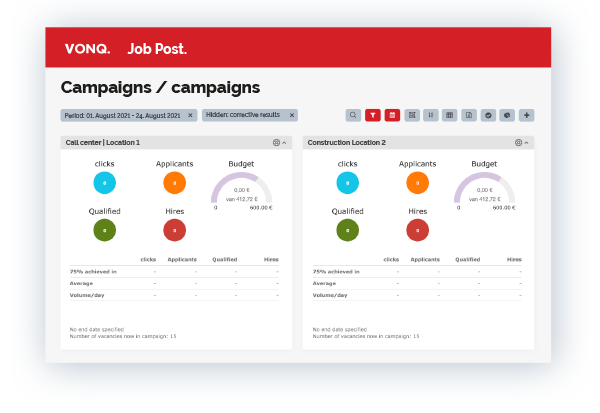 A simple rule to full automation.
Then, automate which sources the vacancy type(s) should be advertised on. Set your rules once. Job Post is full automated after that.
Once a vacancy is filled, Job Post helps you cancel job ads too. If you have the Programmatic Add-on you can set a budget or how many applicants or hires must be achieved. Then Job Post will stop advertising when the set threshold is reached.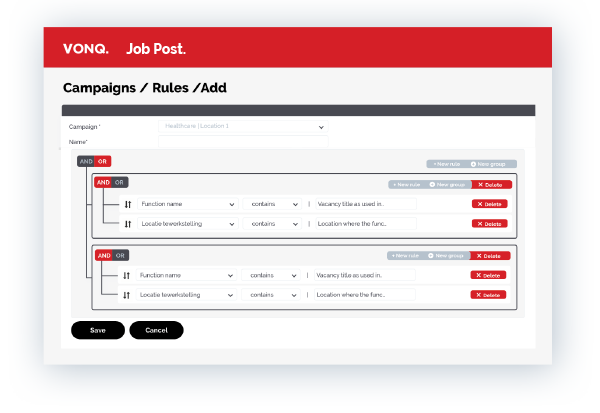 Save an average of 30 minutes per vacancy with Job Post. That's valuable time you can invest in recruiting.
Post a vacancy once and automatically forever after.

Digitalization you need
Create more efficient and reliable recruiting processes with automation

Source transparency
With easy to read reports, see exactly which ads and sources generate applicants that get hired

Costs you control
Minimize what you spend on job advertising, and maximize your staffing ROI
Costs count

—let's subtract together
Staffing costs grow each month and your job is to keep them from outpacing your hiring. Only invest what you need in staffing and save the rest for talent management. When Job Post takes care of the tedious job distribution tasks, then you can focus on recruiting and increasing ROI.
Start tracking and reducing job advertising costs.
Forecast and Reporting for Optimization
Want to make better informed decisions, fast? Use Job Post to analyze important questions about your sourcing strategy and performance over time. From it's high-level cost reports for every campaign to drill-downs into individual ads and sources, you can view the entire performance of your staffing investment from cost-per-click to cost-per-hire and everything in between.
Use historical data to reliably predict how many applicants will apply
Make hidden data be seen
Use easy-to-read pie charts, bar charts and dashboards
Then use the data and insights to optimize where and how you advertise your vacancies. Update the automation rules so that your improvements happen instantly. Rinse and repeat. Now your time is spent strategically increasing ROI and less on administrative tasks.
Pick up where other staffing technologies leave off.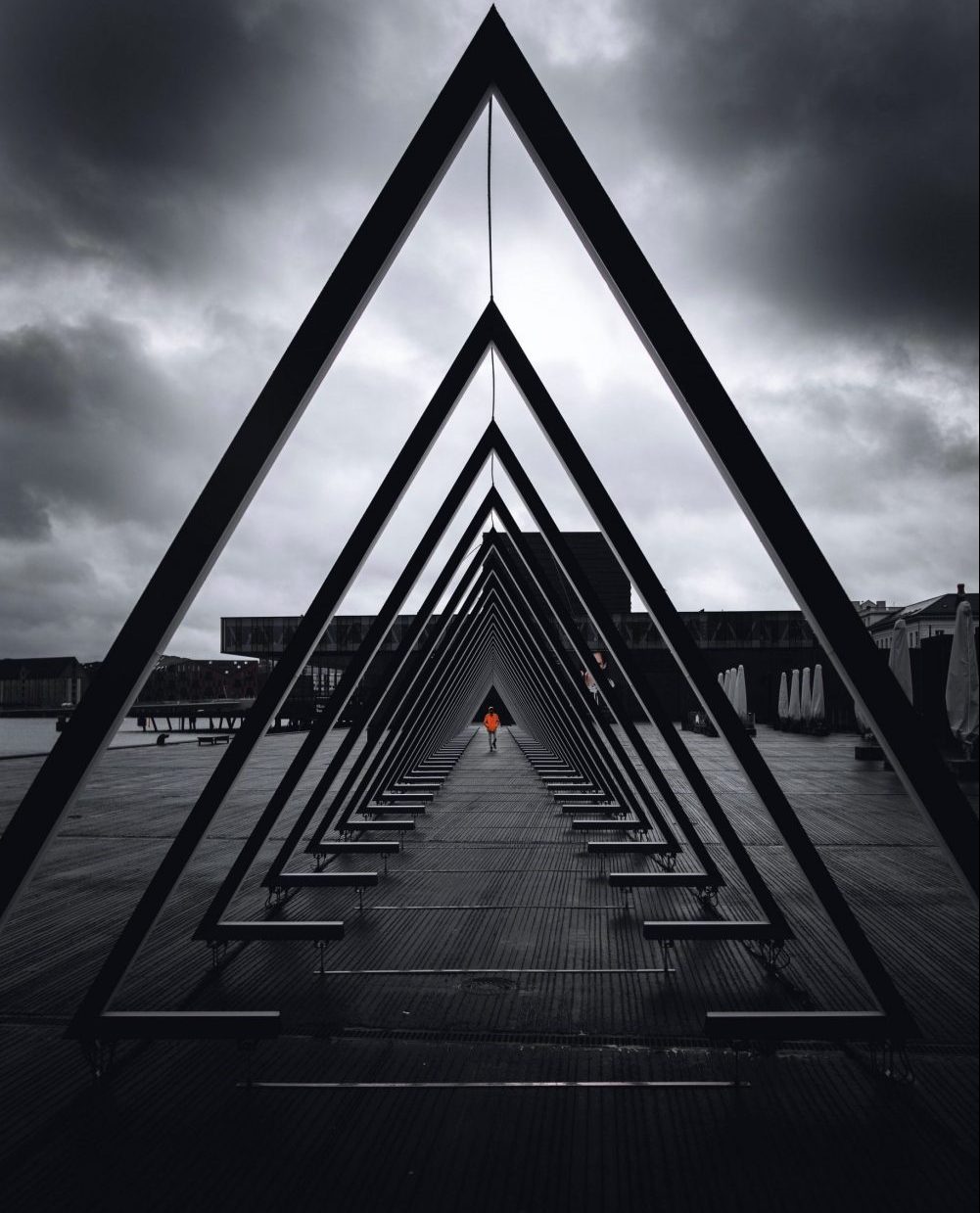 Quality and quantity matter
You want your employer brand to be front and center to ensure the right candidates apply for your open positions. Controlling the staffing process as much as possible means you can fully advertise your brand where it matters most. The result is less mismatched culture fits.
Built for big business and big staffing needs
Job Post is built for staffing agencies and for enterprises that stretch globally with thousands of employees. It seamlessly connects with your Human Capital Management or Applicant Tracking System that is already in place and easily scales with changing workforces. With over 60, no one has more integration partners than VONQ.
✔️ Easy connecting to ATS or HCM
✔️ Centrally manage all vacancies
✔️ Flexible permissions for users to access only certain data
✔️ Single sign-on for centralized IT departments
Job Post is already connected to these systems