Wanneer je denkt dat je de kandidaat al binnen hebt na de klik op de sollicitatieknop, dan heb je het flink mis! Dit is niet het moment om achterover te leunen. Het sollicitatieproces, ofwel de candidate experience, is een essentieel element in jouw recruitment en employer brand strategie. Waarom een efficiënt en persoonlijk sollicitatieproces nou zo belangrijk is en wat je wel (en vooral niet!) moet doen, lees je in deze blog!
Candidate experience en de directe impact op je employer brand
First things first: wat is de candidate experience? Zo wordt de hele beleving genoemd die jouw (potentiële) kandidaat ervaart tijdens het sollicitatieproces, vanaf het eerste touchpoint met jouw organisatie. Hou deze term in gedachten en ga eens na of je dit herkent: Veel euro's en tijd gespendeerd aan een doelgroepgerichte vacaturetekst, die mooie social campagne, testimonial video's en een vindbare en user friendly werken-bij site, maar toch blijven de kwalitatieve kandidaten uit. Hoe dat kan? Heb je er wel eens over gedacht om in de huid te kruipen van jouw kandidaat en eens te solliciteren op jouw eigen vacature?

Het aanmaken van een account, 3 pagina's met vragen (waaronder een salarisindicatie en leeftijd), geen of een onpersoonlijke bevestiging, dagen of soms weken zonder informatie over de status van de sollicitatie en als kers op de taart een geautomatiseerd afwijzigingsmailtje. Moeilijk te geloven? Trust us, we zien dit (helaas) dagelijks! Het sollicitatieproces en de daarbij behorende candidate experience zijn van essentieel belang voor het laten slagen of falen van jouw recruitment of employer branding strategie. En toch wordt dit aspect vaak over het hoofd gezien of te weinig aandacht aan besteed.
Een paar redenen op een rijtje waarom je beter wel de juiste aandacht aan jouw sollicitatieproces besteedt:
Solliciteren voor een (nieuwe) baan is niet niks! Het is een life changing event.
Gemiddeld besteedt jouw kandidaat zo'n 3 -4 uur aan de sollicitatie voor jouw vacature. 
Heeft jouw sollicitatieproces geen prettige candidate experience? Dan kunnen goede kandidaten afhaken in het proces, niet op komen dagen of erger nog zorgen voor negatieve publiciteit. 
Waarbij een positieve candidate experience er juist voor zorgt dat je kandidaten geïnteresseerd blijven, bij een afwijzing wellicht nog eens bij je solliciteren voor een andere functie en jouw employer brand positief kunnen versterken door publiciteit of zelfs door ambassador te worden.
Creatieve candidate experience voorbeelden uit de praktijk
Bol.com, wie kent de webshop niet? Niet alleen onder consumenten, maar ook onder recruitment professionals is deze organisatie een bekend voorbeeld. Wie bij Bol solliciteert weet precies hoe het sollicitatieproces eruit ziet en wat je kunt verwachten. En als je daadwerkelijk solliciteert op een functie, spat de confetti bijna letterlijk van je scherm!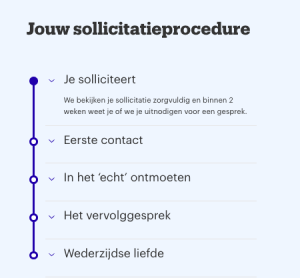 De stap om te solliciteren is een life changing event dat al spannend genoeg is, maar als je dan ook op gesprek mag komen gieren de zenuwen bij sommige kandidaten nog harder door het lijf. Meubelgigant IKEA kwam met een toepasselijke oplossing: een interview vanuit je eigen woonkamer! 
Solliciteer je bij cosmeticabedrijf Rituals? Dan mag je een persoonlijk bericht, een kaartje en een cadeautje verwachten. Ook als je de functie niet krijgt!
Een afwijzing is nooit leuk, maar wel een kans om erachter te komen wat je als kandidaat zou kunnen verbeteren. Bij het Reinier de Graaf Gasthuis mocht je als afgewezen kandidaat op een speciaal bedacht spreekuur komen. 
Hoe verbeter jij jouw sollicitatieproces en candidate experience? ✨
Hoe tenenkrommend sommige sollicitatieprocessen zijn, gelukkig kunnen we ook genoeg geslaagde voorbeelden geven. Nu horen we je denken: "Moet ik dan nu heel mijn sollicitatieproces omgooien?" of "Ik heb geen cadeautjes om weg te geven?". No worries, zelfs met de kleinste aanpassingen kom je al een heel eind! Hoe dan?
Zorg dat jouw sollicitatieproces in lijn ligt met het employer brand dat je probeert uit te stralen. Een hippe vacaturetekst en een formele bevestiging passen niet bij elkaar (en andersom trouwens ook niet!). Gebruik dezelfde tone of voice in alle recruitment content en hou hierbij jouw employer brand en de doelgroep als focuspunt. 
Hou je sollicitatieproces makkelijk en laagdrempelig! Laat de kandidaat niet eerst nog een account aanmaken en stel geen lastige vragen of naar informatie die ook in het CV te vinden is. Met een easy apply verklein je de kans dat een kandidaat afhaakt. 
Een nieuwe baan is spannend en een grote beslissing, een positieve ontvangstbevestiging doet veel! Denk bijvoorbeeld nog eens aan het "confetti" mailtje van Bol.com. 
Communication is key! Een transparant proces, de status van je sollicitatie kunnen bekijken en echt binnen het aangegeven termijn reageren. Blijf communiceren! Moet je deze enthousiaste kandidaat toch afwijzen? Stuur dan geen geautomatiseerd afwijsmailtje. Ook die kosten tijd. Dan beter een persoonlijke boodschap toch?
Maar de beste tip, die we graag nog eens herhalen, is om zelf in de huid van je kandidaat te kruipen. Wat valt je op of waar loop je tegenaan in jouw eigen sollicitatieproces en candidate experience? 
Toch een extra paar ogen nodig? Of heb je een andere vraag? Neem contact met ons op.