Bij 'Deloitte', werken tienduizenden professionals wereldwijd samen op gebieden zoals accountancy, consulting, financiële advisering, risk advisering, tax en legal. De laatste jaren bestaat er bij Deloitte een groeiende vraag naar o.a. technisch talent – en laat nou juist die doelgroep schaars zijn. Bas van Eeuwen, Communicatieadviseur Employer Branding bij Deloitte, vertelt hoe deze uitdaging aangepakt wordt en het benodigde talent wordt binnengehaald.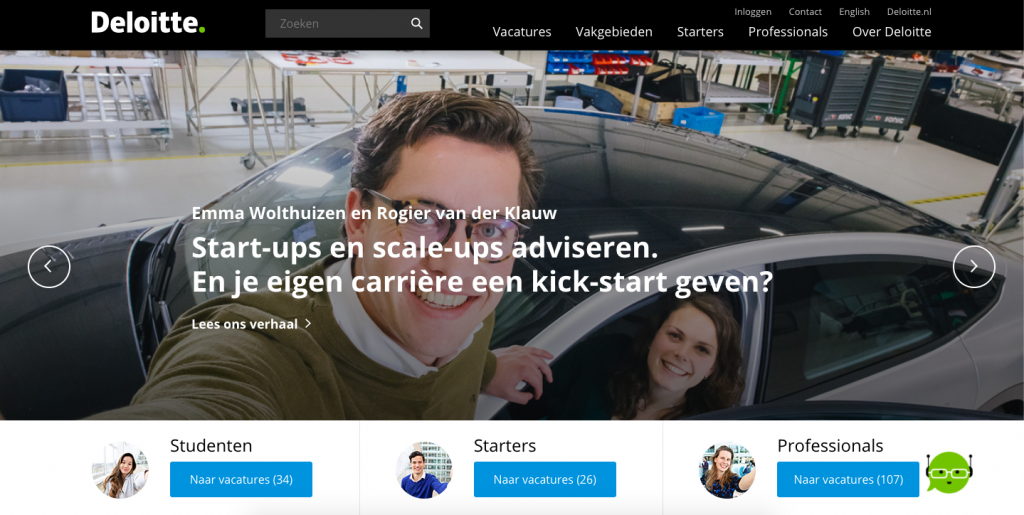 Een grote recruitment uitdaging
Bas: "Bij Deloitte hebben we 6 bedrijfstakken die allerlei verschillende profielen zoeken, maar ook dezelfde. Denk bijvoorbeeld aan een developer. Veel van hen overwegen Deloitte niet als potentiële werkgever, omdat zij niet bekend zijn met onze bedrijfstakken en mogelijkheden. Als developer kun je bijvoorbeeld aan de slag bij Technology Consulting, maar ook bij wat meer traditionele bedrijfstakken als Tax & Legal. De kans is klein dat je daar als technische schoolverlater aan denkt. Er zijn gelukkig ook doelgroepen die eenvoudig te overtuigen zijn. Zo kennen bijna alle financiële studenten Deloitte en zijn zij bekend met de kansen die er liggen. Wij staan bekend als een geweldige werkgever voor starters, maar aan de andere kant, wij hebben ook mediors en seniors nodig."
Bas vervolgt: "Je kunt niet meer teren op je grote naam of rijke geschiedenis, je zult je toch echt als toffe en interessante werkgever moeten onderscheiden van de concurrentie.
Hoe wij dat doen? Het is belangrijk dat je in je content eerlijk antwoord geeft op vragen als: Hoe uitdagend is het werk? Kun je jezelf ontwikkelen binnen de organisatie? Op welke manier werk je samen? Wij leveren als afdeling oprechte verhalen – waarom zou je het anders voordoen dan het is? Je zoekt namelijk een lange termijn commitment van een nieuwe medewerker.
Dus als je bepaalde kwaliteiten nodig hebt, of wanneer je soms extra uren moet maken, benoem het. In veel gevallen zul je zien dat collega's twee kanten van dit verhaal delen. Ja, het is hard werken, maar je krijgt ook de vrijheid om je uren flexibel in te delen om ruimte te houden voor je gezin of je hobby."
Deloitte als werkgever - gebruik de juiste kanalen
"Omdat we zo'n verscheidenheid aan, soms moeilijk te bereiken, talent zoeken, kunnen wij niet alleen maar de pers en social media inzetten. Het is lastig te bepalen op welke kanalen we advertenties moeten uitzetten. Het advies dat VONQ ons geeft op basis van het mediagebruik van onze doelgroepen, is waardevol. Soms zie je dat een platform dan bovengemiddeld presteert, of dat het toch niet werkt zoals je dacht. Door te monitoren weten we precies hoe alles presteert, vervolgens kunnen wel snel schuiven met budgetten. VONQ is voor ons de partner die adviseert, het projectmanagement doet en media inkoopt waar onze doelgroepen actief zijn."
Deloitte zet mooie stappen in het meetbaar maken van de Employer Branding -inspanningen. Door in elke fase van de campagne doelen te stellen en deze meetbaar te maken, kan de impact goed gemeten worden.
Bas: "Wanneer verschillende partijen voor je aan de slag gaan en je op vele kanalen advertenties uit hebt staan, is het fijn dat je alles in een rapportage terug kan vinden. Dit doe ik met het dashboard van VONQ. Het is prettig en belangrijk dat je met een druk op de knop resultaten kunt inzien en kunt terugkoppelen aan je stakeholders – klopt de investering in de campagne met de resultaten? Gaan we de strategie bijstellen?"
En de resultaten om terug te koppelen uit de afgelopen periode zijn er. Uit de data bleek dat 1 op de 10 sollicitanten het afgelopen jaar voortkwam uit deze campagne. Daarnaast zagen ze bij Deloitte ruim 20% meer verkeer op hun werken-bij website, een lagere bounce rate, meer tijd besteed op de website en een stijging in de conversie van websitebezoekers naar sollicitaties. Deloitte is zichtbaarder bij de doelgroep die ze wilden aanspreken. Bas: "Daar zijn we erg trots op."
Strategische recruitment tips
Bas: "Ik zou graag de volgende tips meegeven:
Het inrichten van een goed data dashboard maakt verschil: het neemt je onderbuikgevoel weg. Investeer hierin!
Creëer echte content. Dus echte verhalen van echte collega's. Maak het niet mooier dan het is.
Het is belangrijk om de juiste mediamix te kiezen – als het gaat om kanaal, middel én boodschap. Zo bereik je de meest waardevolle kandidaten.
Koppel je boodschap en media inzet aan iedere fase in je campagne. Sommige boodschappen en kanalen wekken de interesse en andere communicatie is juist weer krachtig zodra de potentiële kandidaat precies weet wat hij of zij zoekt."
Ook stappen maken in je recruitment marketing proces en daarbij zelf achter-de-schermen al je campagne data in de gaten houden? We nemen graag jouw cases door.