Goede kleding en textiel hoeft niet duur te zijn.
Recruitment ook niet.
 Zeeman is de winkel voor kleding en textiel voor het hele gezin, zoals ondergoed, sokken, T-shirts, handdoeken en panty's. Goede kwaliteit voor de laagst mogelijke prijs. En verantwoord gemaakt. Wij geloven dat dingen beter worden als je ze eenvoudig maakt. En dat doen we voor zoveel mogelijk mensen. Zeeman heeft meer dan 1.300 winkels in Nederland, Duitsland, België, Frankrijk, Spanje, Oostenrijk en Luxemburg. 
1.300 winkels in 7 Europese landen
''Zeeman staat bekend om zijn kledingwinkels – maar als werkgeversmerk is het bedrijf nog niet top of mind bij de doelgroep'' vertelt Inge de Graaf, Corporate Recruiter bij Zeeman. Het ontbrak aan een juiste Recruitment Marketingstrategie voor een vaste instroom van sollicitanten
VONQ ondersteunt Zeeman bij haar recruitment uitdagingen. Om het employer brand van Zeeman te versterken is er een op maat gemaakte campagne ontwikkeld. Hierdoor wordt de gewenste doelgroep binnen de retail industrie bereikt en geworven.
Ondanks de vele winkels, is de HR-afdeling van Zeeman uiterst klein. Voordat Zeeman begon met een always-on recruitment marketingstrategie waren zij sterk afhankelijk van de collega's in de winkel voor (offline) werving voor hun eigen locatie. Daarnaast gebruikt Zeeman af en toe jobboards voor vacatures in het Service kantoor. De belangrijkste uitdaging is: personeelstekort in de winkels van Zeeman, zowel parttime als fulltime in winkelmanagement. Zeeman staat alom bekend om zijn winkels, maar moest vaker als werkgever worden beschouwd.
Het hoofddoel van de recruitment marketingcampagne van Zeeman is om het aantal openstaande 'winkel vacatures' zo snel mogelijk terug te dringen. Het inhuren van tijdelijke medewerkers past niet bij de visie van Zeeman, tevens is het ook geen lange termijn oplossing. Daarnaast moest er gekeken worden naar het recruitmentproces van Zeeman. Hier is in de afgelopen periode veel tijd en energie naar toe gegaan met als resultaat een aantal mooie efficiency slagen.
De ontwikkeling van een flexibele & doeltreffende recruitment marketingstrategie. Het creëren van een geschikte recruitment marketingstrategie is de basis van een goed presterende campagne. De strategie bestaat uit het selecteren van de juiste kanalen, het ontwikkelen van goede content en het doormeten van de campagneresultaten.
''VONQ heeft een bewezen staat van dienst betreft Recruitment Marketingstrategieën. De eerdere ervaring met soortgelijke doelgroepen gaf ons nuttige inzichten bij het opzetten van de recruitmentstrategie. Ook de mogelijkheid om eventueel op te schalen naar andere landen is voor ons belangrijk.''

 Inge de Graaf, Corporate Recruiter bij Zeeman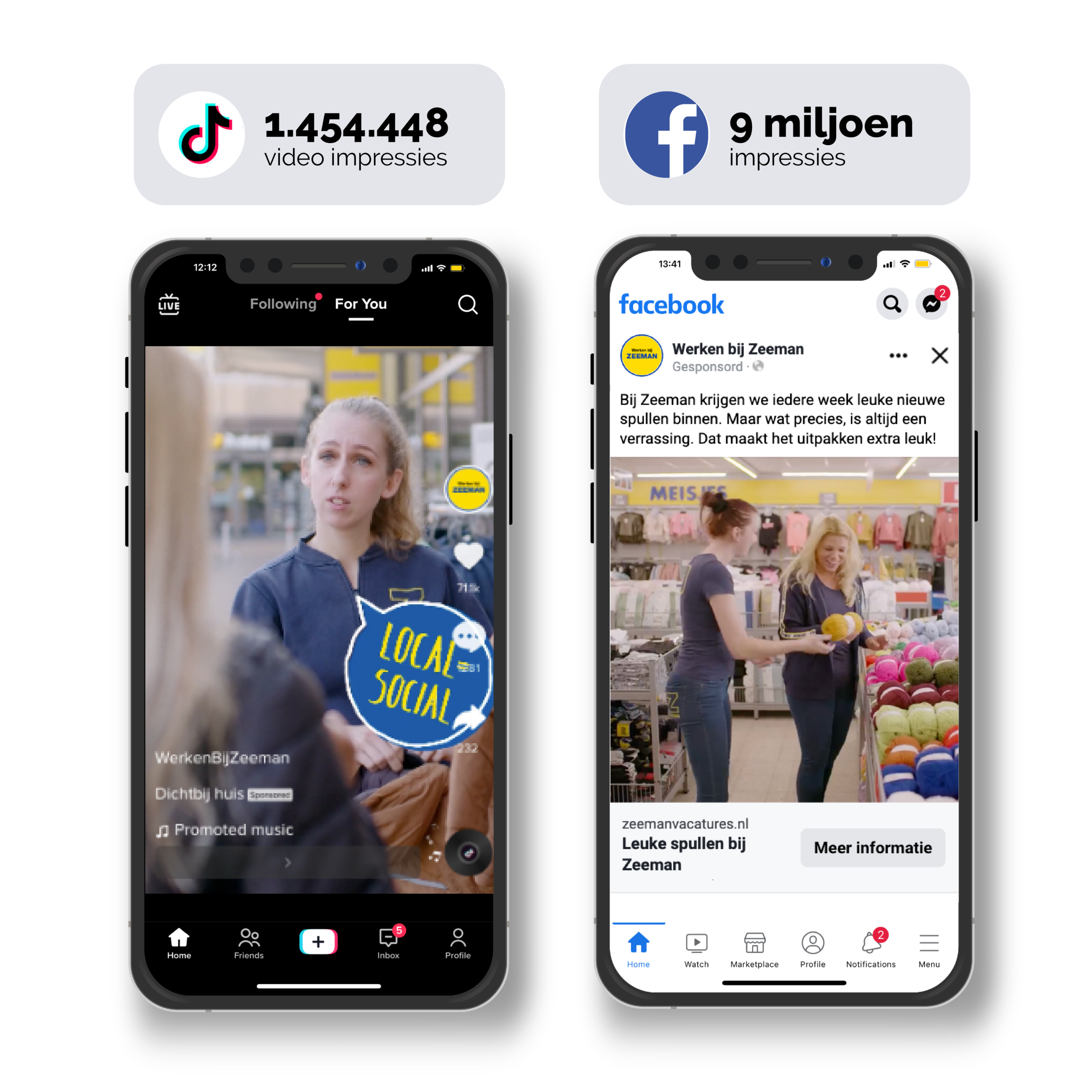 1.
Naamsbekendheid vergroten

via Google en Social Media onder de beoogde doelgroep
 Om Zeeman top of mind te positioneren bij de beoogde doelgroep en daarmee het online bereik voor openstaande vacatures op de carrièrepagina van Zeeman te vergroten, hebben de Social Media en Google experts van VONQ een awareness campagne ontwikkeld met onder andere Snapchat, TikTok, Facebook en YouTube. Foto- & video advertenties zijn een bewezen manier om de bekendheid van Zeeman als topwerkgever onder de aandacht te brengen bij de doelgroep. 
Op deze manier heeft Zeeman onder andere 1.454.448 video impressies gegenereerd via één van de TikTok advertenties. In totaal wist Zeeman meer dan 9 miljoen impressies te genereren via Facebook/Instagram. Zo kreeg het textielbedrijf op een van de ads 1.071.527 impressies. In het begin van de campagne zijn er veel A/B testen uitgevoerd om te ontdekken welke content het beste aanslaat bij de doelgroep.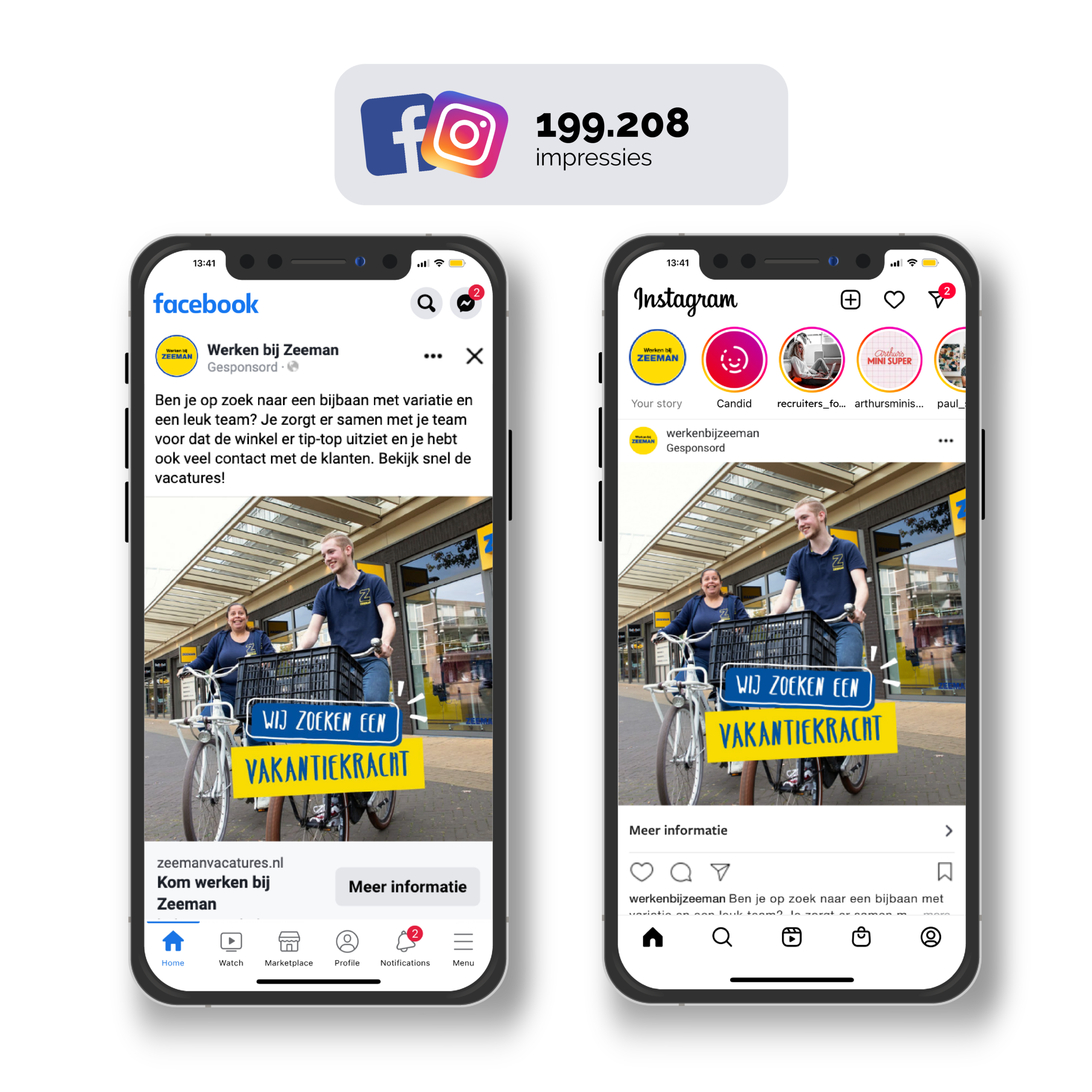 2. Het promoten van specifieke vacatures via Social Media en geselecteerde job boards om de
betrokkenheid te verhogen
In de volgende fase van de campagne worden de voordelen van Zeeman als werkgever benadrukt. Deze advertenties zijn onder andere gericht op kandidaten die in de awareness-campagne al eerder in contact zijn geweest met Zeeman. Hierdoor krijgen potentiële kandidaten een extra nudge om te solliciteren.
In deze actie fase worden Facebook, Instagram en Google Search toegepast om kandidaten te overtuigen om te solliciteren op één van de openstaande vacatures. Op bijvoorbeeld de advertenties hier links kreeg Zeeman vanuit Facebook/Instagram 199.208 impressies.
Middels Google Search zal Zeeman zichtbaar zijn boven de organisch zoekresultaten, hiermee bereikt Zeeman de zeer relevante actief zoekende doelgroep en hierdoor wordt deze doelgroep naar de gewenste pagina van Zeeman geleidt. Kijkend naar de vastgestelde doelstellingen en behaalden Google Search resultaten bereikte Zeeman 223.373 impressies.
Dit bevestigt de goed presterende campagne en dat de targeting aansluit bij de potentiële kandidaten.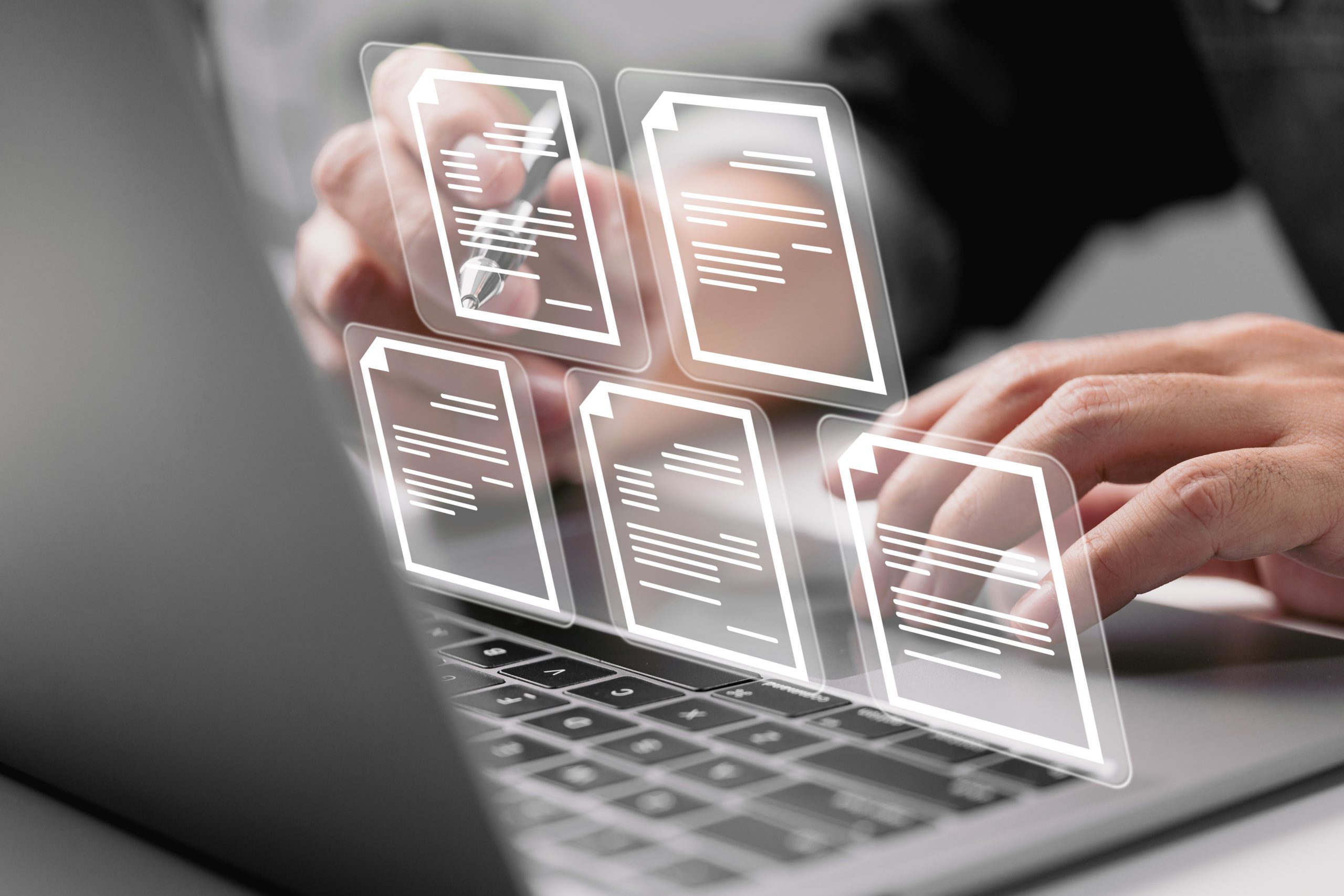 3. Krijg
inzicht in de prestaties

met een
real-time dashboard en advies om de campagne voortdurend te verbeteren
 Zeeman is nu in staat om de focus locaties gaandeweg flexibel aan te passen naar het gebied waar de wervingsbehoefte het grootst is. Hierdoor wordt het budget efficiënter besteedt. 
Om inzicht te creëren in de campagneresultaten maakt Zeeman gebruik van het VONQ real time campaign dashboard. Hierin worden de resultaten van de campagne weergegeven, onder andere de resultaten op de website en per online kanaal. Zeeman heeft altijd toegang tot het realtime dashboard, dit resulteert niet alleen in zeer sterke inzichten in de campagne, maar de volledige online prestaties van onze recruitmentstrategie en -kanalen. Dit stelt Zeeman in staat om management en stakeholders te informeren en te adviseren over de meest actuele campagne prestaties. 
"VONQ heeft de setup van de campagne volledig opgepakt. Sinds de go-live krijgen we tweewekelijks updates over de campagne resultaten en de volgende stappen. Hierdoor kunnen we flexibel en trefzeker reageren en onze recruitmentstrategie voor lange termijn uittekenen."
Inge de Graaf
Corporate Recruiter bij Zeeman
Het resultaat:


Permanente zichtbaarheid om een recruitment pipeline tot stand te brengen
 Als onderdeel van de campagneplanning, worden de HR-processen van ad-hoc recruitment omgezet naar een duurzame recruitment marketingstrategie voor de lange termijn. Zeeman merkt dat een ontwikkeling van de carrière website helpt om een sterke recruitment pipeline te crëeren. Op basis hiervan beoordeelt Zeeman naast acute personeelstekorten, ook de behoefte voor in de toekomst. Dit bespaart budget en tijd voor toekomstige detacheringen. 
Resultaten

en succes van de campagne
Gedurende de gehele looptijd van de campagne wist Zeeman via gerichte targeting op Social Media & Google meer dan 2.500 sollicitanten te realiseren in 10 dynamische veranderende gebieden in Nederland.
 Unieke gebruikers bereikt via Facebook, Instagram en TiKTok.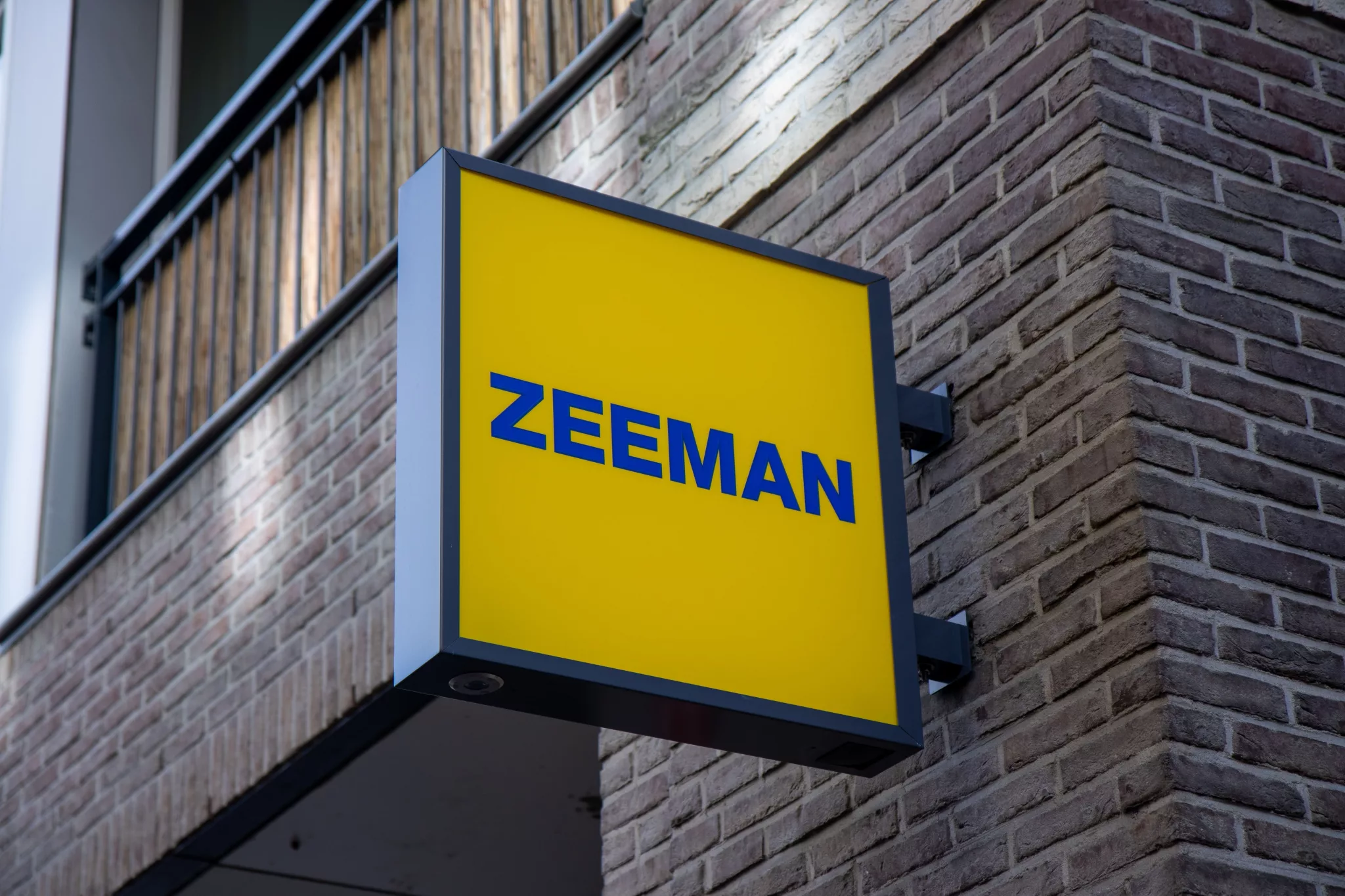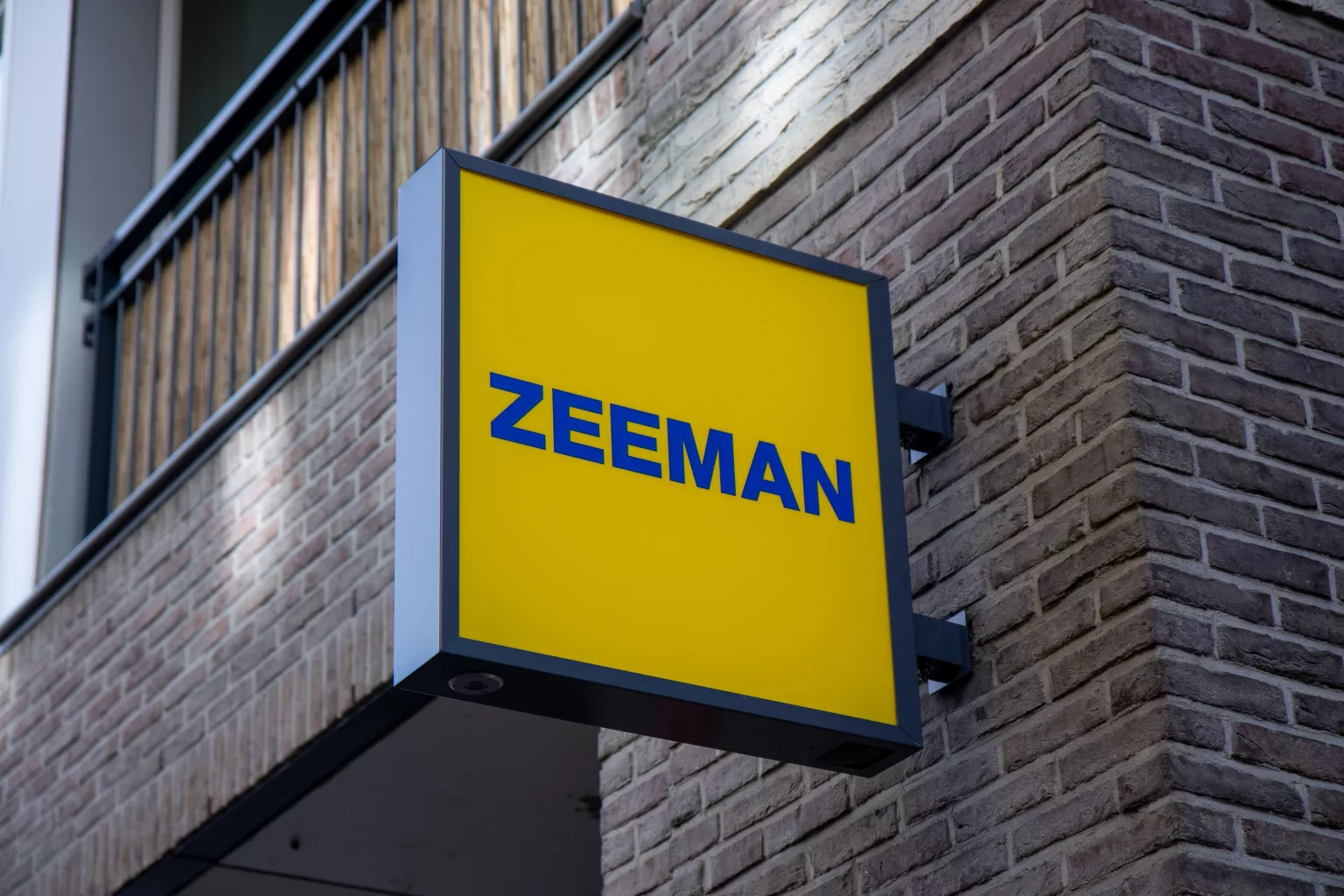 "Wij zijn zeer tevreden om de daadkracht te zien waarmee VONQ aan onze uitdagingen werkt. VONQ zoekt voortdurend naar manieren om ons te ondersteunen bij onze behoeftes. Dankzij de inzichten en adviezen van VONQ kunnen we weloverwogen beslissingen nemen voor onze HR-strategie."
Inge de Graaf
Corporate Recruiter bij Zeeman
The
Case Study

at a glance
Download here a compact overview of the case study as a PDF file.