Creëer diversiteit door de juiste woorden in je vacaturetekst.
Je vacature staat al een tijdje online en langzaam stromen er sollicitaties in je mailbox. Maar wat merk je op? Bijna allemaal mannelijke sollicitanten. Toeval? Wij denken van niet. Wist je dat je (onbewust) woorden in je vacaturetekst gebruikt die sturend of aantrekkelijk kunnen zijn voor een bepaald geslacht? Grijp dit moment met deze "gender coded wake up call" om jouw vacatureteksten te optimaliseren zodat ze aantrekkelijk zijn voor iedereen in jouw doelgroep!
Ik geloof je op je woord!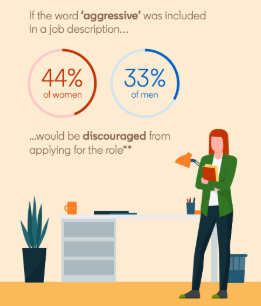 Volgens het (Engelstalige) onderzoek van LinkedIn "Language Matters Gender Diversity Report" maakt jouw woordkeuze wel degelijk een verschil! En kan het een grote impact hebben op jouw wervingsresultaten en de diversiteit op de werkvloer.
Zou je bijvoorbeeld het woord "aggressive" in je Engelse vacaturetekst zetten, dan jaag je volgens dit onderzoek 44% van je vrouwelijke en 33% van je mannelijke potentiële kandidaten weg. Woorden als "powerful", 'strong-willed' en "confident" maken je vacature dan weer veel aantrekkelijker (voor zowel mannen als vrouwen)!
Hoe zit het dan? Daar is het laatste woord nog niet over gezegd!
Al jouw recruitment efforts zijn natuurlijk gericht op het vinden van de ideale kandidaat die het beste bij jouw organisatie, team en rol past, ongeacht het geslacht. En daarom moet je je woorden zorgvuldig kiezen. Niet alleen in je vacatureteksten, maar in alle content van de hele candidate journey.

Betekent dit dat je bepaalde woorden helemaal niet meer mag gebruiken? Nee, maar het is belangrijk je niet alleen goed te richten op de juiste omschrijving van de functie of jouw organisatie, maar ook te beseffen dat bepaalde woorden net wat aantrekkelijker kunnen zijn voor de een dan voor de ander (en dat je vooral dus niet klakkeloos de input van je hiring manager over moet nemen!).

Welke woorden dat zijn? Gelukkig hebben ze daar ook onderzoek naar gedaan waarbij ze een lijst op hebben kunnen stellen van een aantal (Engelse) "mannelijk en vrouwelijk gecodeerde" woorden in vacatureteksten. En om het nog makkelijker te maken is er ook een tool ontwikkeld waarin je jouw (tot nu toe alleen voor Engelstalige) vacaturetekst of content kan kopiëren. De tool legt jouw content naast de woordenlijst uit het onderzoek en laat zien welke en hoeveel "mannelijke" of "vrouwelijke" woorden jouw tekst bevat. Zo kun je even dubbelchecken of je (onbewust) toch niet teveel gestuurd hebt op mannelijke of vrouwelijke gecodeerde woorden en vooral dat je door jouw taalgebruik geen potentiële kandidaten misloopt!
Geen woorden maar daden, zo doen we het bij VONQ!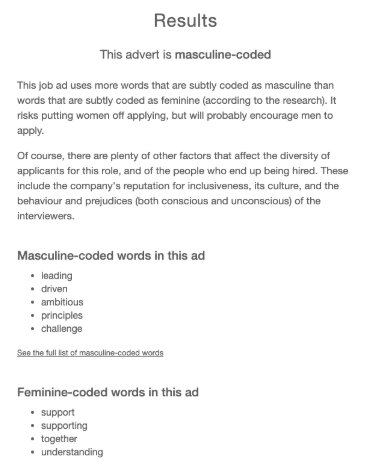 Hoe schrijven wij onze vacatureteksten en weerspiegelt dit goed wie wij zijn als organisatie (met voertaal Engels) zonder bias en zonder potentiële kandidaten te missen? Laten we eens de proef op de som nemen met deze tool.
Gooien we onze DevOps Engineer vacature in de tool, dan komen we tot het resultaat dat we zowel mannelijk als vrouwelijk gecodeerde woorden gebruiken. Maar we zijn wel geneigd een iets meer "mannelijke" schrijfstijl te hanteren.
Een vergelijkbaar resultaat zien we ook bij de vacatures International Marketing and Campaign Manager, Product Owner Internal Systems en Senior Frontend Developer.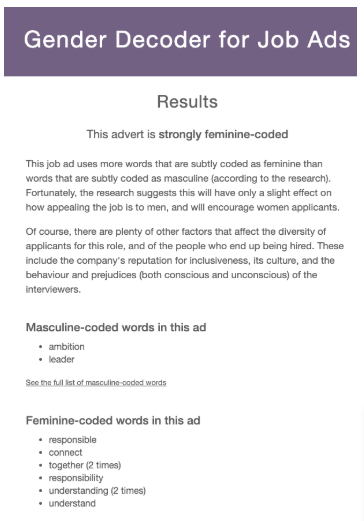 Onze vacature voor een International Business Development Manager is een van de weinige functies die meer een vrouwelijk gerichte schrijftaal heeft.
Reden tot paniek en meteen terug naar de schrijftafel? Nee, niet direct. Want wist je dat een vrouwelijke collega in de rol van International Marketing and Campaign Manager is gestapt? Maar die had toch een "mannelijke" schrijfstijl? Hoe kan dat dan? De conclusie die we hieruit kunnen trekken is dat we er eigenlijk goed in geslaagd zijn onze organisatie sterk maar vooral ook realistisch neer te zetten. Wij gebruiken namelijk graag "mannelijk gecodeerde" woorden zoals "ambition", "autonomous" en "challenges". Deze waarden en kwaliteiten vinden wij erg belangrijk en die vinden we ook terug in onze collega's, ongeacht geslacht!
Nu is hét moment om woord bij daad te voegen!
Het hoeft dus niet erg te zijn te concluderen dat jouw vacatureteksten een kleine neiging naar een mannelijke of vrouwelijke schrijfstijl hebben, zolang het (natuurlijk zonder discriminatie!) past bij de organisatie en werkgever die je bent. 
Nu is hét moment om jouw content en schrijfstijl kritisch onder de loep te nemen en te optimaliseren! Want de juiste schrijfstijl kan een grote impact hebben op jouw employer brand, maar kan ook zorgen voor de juiste kandidaat en meer diversiteit. Het vinden van de ideale kandidaat houdt natuurlijk niet op bij de woordkeuze in je (vacature)tekst, maar vind je ook door het benoemen van de juiste pullfactoren, de juiste tone of voice en een aantrekkelijk aanbod. Hierover valt nog veel meer te leren en te lezen op onze Insights pagina met allerlei blogs en case studies met praktische tips en tricks.