De Netflix hitserie 'You' is op het eerste gezicht niet een serie waar je recruitment marketing inspiratie uit kunt halen. Niets is minder waar...
Het is geen geheim dat het momenteel lastiger is om talent te werven. Volgens het GRID onderzoek van Bullhorn ziet 70% van de recruiters het tekort aan talent de grootste uitdaging voor 2020. Als we inzoomen op het wervingsproces ligt voor 38% de meeste uitdaging aan de voorkant, het vinden van de kandidaten. Ondertussen blijft het aantal openstaande vacatures toenemen. Eind december 2019 stond dit volgens het CBS 291 duizend.
Betekent dit dat we de werf-handdoek in de ring moeten gooien? Niet als we het aan hoofdpersoon Joe zouden vragen.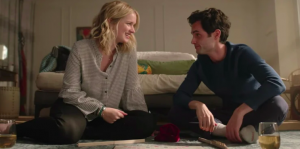 Voor iedereen die de serie nog niet heeft gezien – wees gerust, we gaan niet teveel verklappen. In het kort: de serie gaat over de charmante, lichtelijk ongemakkelijke Joe die opslag verliefd wordt bij het zien van schrijfster Beck. Deze verliefdheid leidt al snel tot een obsessie waarbij hij alles in de strijd gooit om haar voor zich te winnen. En met alles, bedoelen we ook echt, alles.
Hoe kunnen we hiervan leren? Joe's aanpak is een beetje creepy (oké toegegeven, hij is veel te creepy, en ons advies is om iedereen levend te houden!!!), maar wel zeer succesvol. Als recruiter wil je ook zo dicht mogelijk bij jouw kandidaat komen – maar dan natuurlijk minus het creepy gedeelte. Daarom hebben hebben we Joe's aanpak eens goed geanalyseerd en vertaald naar een drie stappenplan. Klaar om toegepast te worden op de recruitment strategie:
Stap 1: grondig onderzoek
Stap 2: kom ze 'toevallig' tegen
Stap 3: Imponeren
Stap 1: Grondig onderzoek
Joe wil het leven van zijn Beck volledig begrijpen. Hij begint daarom met een uitgebreid onderzoek waarbij hij iedere (online) tool inzet om informatie over haar te achterhalen. 
Dus – start met een flink onderzoek. 
Verzamel zoveel mogelijk relevante informatie over jouw gedroomde kandidaten. Zijn het actieve of passieve kandidaten? Wat vinden ze wel/niet leuk? Hoe bewegen ze zich online? Op welke kanalen zijn ze dagelijks actief (denk aan sociale media, e-commerce sites, nieuwssites, apps, online hubs and communities)? En op welke kanalen zoeken ze naar vacatures? 
Om een kandidaat te kunnen bereiken, moet je natuurlijk wel weten waar hij of zij is. Deze informatie is daarom essentieel om een effectieve mediaplanning in te kunnen richten. 
Stap 2: Kom ze 'toevallig' tegen
Wat doet Joe daarna? Hij loopt haar toevallig tegen het lijf. Als je stap 1 goed hebt uitgevoerd, dan weet je precies waar je moet adverteren om door een potentiële kandidaat gezien te worden. 
Belangrijk: een kandidaat is nooit alleen op één online kanaal actief. 
Adverteer daarom op meerdere kanalen. Niet alleen om zichtbaarder te zijn, maar ook om herkenning te creëren. Ons advies is om een mediamix van minimaal drie kanalen in te zetten. 

Stap 3: Imponeer
Al het voorwerk is gedaan. Het is tijd om ze te imponeren. Zie dit als een eerste date – je begint dus niet meteen met het vertellen van jouw levensverhaal. Dit gaat veel geleidelijker en hangt af van hoe het gesprek verloopt.  Verwerk dit ook in de mediastrategie. Voordat je begint met adverteren, vraag je jezelf twee dingen af:

1) The candidate journey – De reis die de kandidaat aflegt, nog voor het eerste contact. Hoe bekend ben je bij de kandidaat? Wat weten ze al van je? Plaats je potentiële kandidaten eens in de AIDA funnel. 

2) Content – wat voor informatie wil je delen over de vacature & organisatie en op welke manier? Zet je een teaser video in, een testimonial of ga je werken met banners? Dit hangt uiteraard samen met punt 1. Je wil de juiste content delen om zo de doelgroep te interesseren.
Samenvattend:
Door deze drie "simpele" stappen te doorlopen kun jij een optimale recruitment marketing strategie bepalen en zorg je ervoor dat je de juiste kandidaten op het juiste moment benaderd, met de juiste boodschap.
Dus, ga niet bij de pakken neerzitten. Leer van Joe, zorg voor een effectieve strategie en vind die perfecte kandidaten! Maar – sluit ze vervolgens niet op in de kelder, daar scoorde hij geen punten mee ?
Klinkt dit interessant en wil je graag nog iets meer weten? Wij geven gratis media advies. Get in touch!