In de zorgsector is het lastig om te werven en zeker als het om de verpleegkundigen gaat. Een terechte vraag of het dan wel slim is om zo actief te werven als er toch nauwelijks ervaren mensen overstappen van baan en iedereen in dezelfde vijver aan het vissen is. En moet je wel campagne blijven voeren? Het antwoord is: Ja! In dit artikel lichten we aan de hand van data toe waarom het verstandig is online recruitment marketing te blijven voeren in de zorg. 
Vacatures binnen de zorg
Laten we eerst kijken naar wat data en wat de cijfers zeggen over de zorgsector. Er zijn ruim 201.217 zorgvacatures geplaatst op jobboards in 2020. Deze vacatures staan gemiddeld 32 dagen online voordat ze ingevuld worden. Dit is een gemiddelde van de gehele zorgsector er zijn duidelijke verschillen te zien binnen de branche. Als we kijken naar de algemeen verpleegkundigen, is maar 7% actief op zoek. Daar ligt de gemiddelde tijd dat een vacature actief is veel hoger.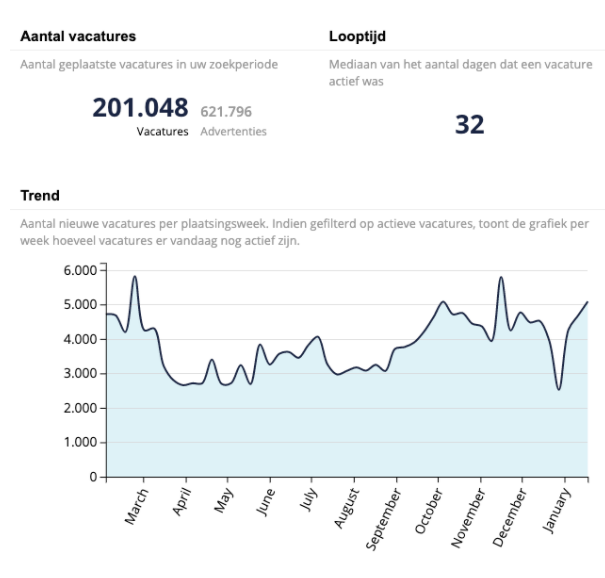 Welke jobboards worden bekeken?
Als je wilt dat een vacature wordt ingevuld, is het wel handig om te weten van welke sites jouw doelgroep het meest gebruik maakt voor het zoeken naar een baan. Hieronder de top 10 meest gebruikte vacaturesites.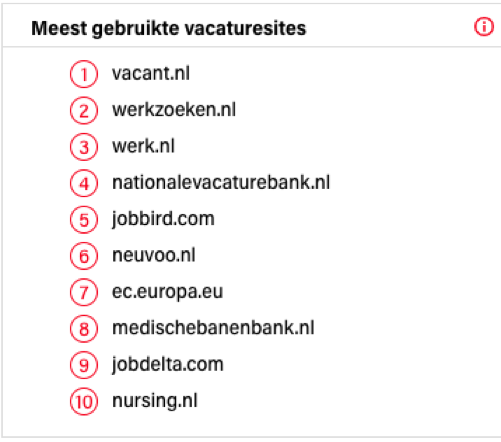 Moet je nu wel of niet werven binnen de zorg?
Ja, je moet wel online actief blijven. Ook omdat je concurrenten ook aanwezig zijn online, is het belangrijk dat ook jij met je organisatie zichtbaar bent. Belangrijker is nog dat als iemand van baan wil veranderen, jij natuurlijk wilt dat hij/zij voor jouw organisatie kiest. Als jij online niet zichtbaar bent en niet werkt aan je employer branding, dan is de kans kleiner dat iemand direct aan jou denkt als volgende werkgever. 
Online zichtbaarheid is dus erg belangrijk. Stoppen met je online campagne is dan ook niet aan te raden. Wel kun je overwegen om de campagne strategisch anders in te zetten. Focus je bijvoorbeeld meer op de awareness en interest/desire laag. Dat houdt in dat je meer gaat werken aan je employer brand. De zichtbaarheid van je organisatie. Deel daarnaast ook inhoudelijke content over hoe het is om te werken in de zorg. Zo zorg jij ervoor dat je bekend wordt en blijft onder jouw doelgroep en dat je hen relevante informatie geeft. Mochten zij dan van baan willen wisselen, denken ze als eerste aan jouw organisatie. 
Stoppen met conversie?
Moet je dan helemaal stoppen met het vermarkten van vacatures? Nee, dat raden we niet aan. Ondanks dat de focus meer op de zichtbaarheid ligt, is het verstandig om ook een actielaag mee te nemen. Zeker voor de moeilijk in te vullen vacatures. Mocht jouw doelgroep overwegen om te wisselen van baan, dan wil je hem of haar overhalen met dat laatste zetje en dat is het vermarkten van de vacature. Er moeten sowieso altijd contact mogelijkheden zijn, zodat je doelgroep zijn/haar gegevens achter kan laten. 
Richt je campagne strategisch goed in
Het is dus erg belangrijk om goed na te denken over de strategie van de campagne. Dat is afhankelijk van je doelgroep en doelstellingen. Welke doelen wil je bereiken? Waar bevindt jouw doelgroep zich? Via welke kanalen zijn zij goed bereikbaar? Een goed doelgroeponderzoek is dus erg belangrijk. Je wilt hen namelijk bereiken op de juiste plek en juiste tijd. 
Bedenk daarnaast goed wat je wilt bereiken en natuurlijk wat het budget is dat je in gaat zetten. Bij VONQ helpen we je graag met het vinden van de juiste strategie. Door de vele data die wij hebben van alle zorgcampagnes, weten we als geen ander wat wel werkt en wat niet werkt. Wij geven jou een gepast advies op maat. 
Naast dat je campagne goed ingericht moet zijn, is het ook heel belangrijk om je eigen mensen mee te krijgen. Zorg dat zij de ambassadeurs zijn van jouw organisatie. Luister naar hen, vraag om hun mening en waarom zij voor jouw organisatie hebben gekozen. Daar haal je waardevolle informatie uit. Tevreden en blije medewerkers zullen dat ook uiten naar buiten en dat geeft weer een positieve boost aan je employer brand. 
Tips en tricks
Door de vele zorgcampagnes die wij hebben gedaan, weten we goed wat wel en wat niet werkt. Hieronder zetten we een aantal content tips en best practices op een rijtje.  
Content tips
Zorg dat je een goede afwisseling hebt tussen foto's van mensen die daadwerkelijk aan het werk zijn en foto's waarbij de medewerkers recht in de camera kijken. 
Geen patiënten in beeld, dit kan ervoor zorgen dat de afbeeldingen worden afgekeurd door bijvoorbeeld Google en dan zijn ze niet bruikbaar om mee te adverteren. Ook het gebruik van medewerkers als patiënten op de foto's werkt niet, de kanalen kunnen nergens uit afleiden dat het om werknemers gaat en niet om patiënten. 
Doordat er veel concurrentie is, is het belangrijk om een goed beeld te schetsen van de bedrijfscultuur. Zorg dus dat dit duidelijk naar voren komt in het beeldmateriaal, in de advertentieteksten en op de landingspagina's.
Zorg voor voldoende contactmogelijkheden. Aangezien de doelgroep vaak niet actief op zoek is, is het belangrijk om ook zogeheten softconversies mogelijk te maken. Hiermee kan je de doelgroep al op een andere manier benaderen, dan enkel sturen op sollicitaties. Denk hierbij aan een jobalert, inschrijving voor een nieuwsbrief, etc.
Besteed ook aandacht aan je vacatureteksten. Weet wat je doelgroep belangrijk vindt en haak daarop in met je teksten.
Best practices
Het is verstandig om continu zichtbaar te zijn met je organisatie. Wij noemen het ook wel de employer branding laag. Dit wil zeggen dat je bijvoorbeeld vidoe's over jouw organisatie, of over een specifieke afdeling laat zien aan je doelgroep. Op die manier blijf je top-of-mind bij de doelgroep, ook al heb je misschien geen concrete vacatures open staan.
Zorg voor opleidingsmogelijkheden. De zoekvolumes van vacatures i.c.m. "in opleiding" of "werken en leren" zijn erg hoog. Dit kan in het begin wat tijd en investering kosten, maar op de lange termijn kan dit het tekort aan personeel oplossen.
Optimaliseer je sollicitatieformulier. Zorg dat deze op de mobiel ook makkelijk in te vullen is en houd het formulier zo kort mogelijk. Dus het liefst geen verplicht cv veld. Er worden veel sollicitaties gestart via de mobiel, maar bijna niet afgerond omdat niet veel mensen hun cv op hun mobiel hebben staan. Kies dan voor een link naar het LinkedIn profiel of ga het gesprek met ze aan als ze het formulier hebben ingevuld. Maak die stap naar solliciteren laagdrempelig. 
Zorg voor de juiste websitestructuur. Iedere doelgroep vraagt om een eigenlijk pagina en vacatureoverzicht, zodat je daar ook via de campagne goed op kan sturen. Bijvoorbeeld: de Recovery verpleegkundigen hebben behoefte aan andere content en vacatures dan de IC verpleegkundigen. Een loodgieter stuur je namelijk ook niet door naar de vacature van een timmerman. 
Geschreven door: Joost van den Heuvel and Marlot Oortman