Nu is dé tijd om het schrijven van succesvolle vacatureteksten je echt eigen te maken!
Het schrijven van een succesvolle vacaturetekst blijft een vak apart, want wanneer is een vacaturetekst nu écht een goede tekst? Investeer de tijd die je nu hebt in het optimaliseren en doelgroepgericht schrijven van jouw vacatures.
In deze blog nemen we de de inmiddels offline (of vervulde?) vacaturetekst voor de "Owner van de employee journey" onder de loep. Waarom deze vacaturetekst viral ging? De wervende organisatie werd als "hipster" bekroond vanwege hun schrijfstijl. Is deze benaming gegrond en maken we onze vacatureteksten te "hip" of schoot deze organisatie juist een pijl in de roos? Dat lees je in deze blog! 
Een succesvolle schrijfstijl: wat is dat?
De vacatureteksten van Coolblue, wie kent ze niet? De energieke en actieve 'Wat vertel jij op feestjes en dit is wat je echt doet'-schrijfstijl is kenmerkend voor deze organisatie en (helaas) ook een van de meest gekopieerde. Maar past deze hippe en energieke taal wel bij jou als organisatie? Een succesvolle schrijfstijl weet jouw doelgroep te bereiken en te triggeren, maar is ook uniek en matchend met jouw organisatie en employer brand. En het liefst gebruik je die schrijfstijl in alle content van de candidate journey (Waarom? Daarover lees je hier meer!).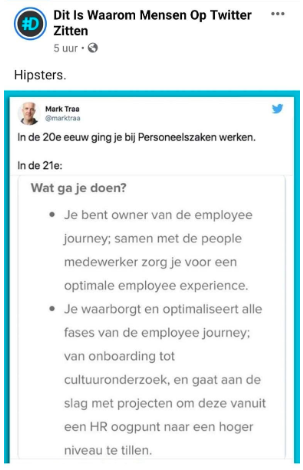 Even terug. Dit is de vacaturetekst waar het een poosje terug allemaal om draaide.
Niet alleen kwam de vacaturetekst op al mijn social feeds voorbij, ik en mijn arbeidsmarktcommunicatie expertise werden vanuit verschillende kanten aan de tand gevoeld. Want deze tekst is toch "te bizar voor woorden"?
Hipstertaal of doelgroepgericht?
Maar klopt deze mening? Is deze vacature echt "te hipster"? Om heel eerlijk te zijn, ik heb veel ergere vacatureteksten gezien (occupational hazard) en in eerste instantie begreep ik niet wat er mis zou moeten zijn met deze vacaturetekst. De enige vraag die ik kon stellen was: past deze schrijfstijl bij de wervende organisatie? Na een korte online zoektocht bleek het antwoord op deze vraag een volmondig "ja!" te zijn. Een jonge organisatie met jonge ambitieuze werknemers.
De hamvraag is eerder: voel jij je aangesproken tot deze vacaturetekst? Is jouw reactie een overtuigend "nee!" en sluit jij je aan bij de opinie "bijzondere en hippe tekst"? Dan behoor je gewoon niet tot de doelgroep! Een korte proef op de som middels een LinkedIn post toonde ook aan dat mensen uit mijn netwerk die de tekst wel aantrekkelijk vonden, zich inderdaad in de HR-doelgroep bevonden en zich in de termen en schrijfstijl van de vacaturetekst konden vinden!
Iedereen aanspreken is niemand aanspreken
Ieder zijn eigen smaak. Een pakkende en succesvolle schrijfstijl betekent dat deze niet aantrekkelijk hoeft te zijn voor iedereen, maar juist wel voor jouw doelgroep! Te 'hipster" of niet, het gaat om het bereiken en enthousiasmeren van die perfecte kandidaat. 
Meer weten over het schrijven van succesvolle vacatureteksten? Check onze Insights pagina of krijg advies van onze experts!