15 September 2021
Kacey Ende
VONQ unveils new look and integrates IGB's volume Job Posting into VONQ Suites for enterprise job distribution
VONQ Group announces a new vision, product portfolio and rebrand.
VONQ Group B.V. announces a new vision, a market repositioning and the completion of the integration of InGoedeBanen.nl B.V. (IGB) into the Group—just one month shy of VONQ's 15th birthday.
Today, we're sharing the biggest change to VONQ in our nearly 15-year history.
"VONQ isn't only a platform to distribute jobs," said CEO Arno Schäfer. "We're a solution where people, technology and data come together. After a disruptive 2020, the labor market is bouncing back and many HR departments have set out in new directions for digitalization. It's clear the 'New Normal' is here to stay!"
"That's why today we're excited to tell the story of our longstanding brand and unveil a more impactful look for VONQ," Arno continued. "The design reflects our power: to deliver future-proof and data-driven enterprise job distribution solutions that save valuable time, reduce complexity and maximize hiring ROI."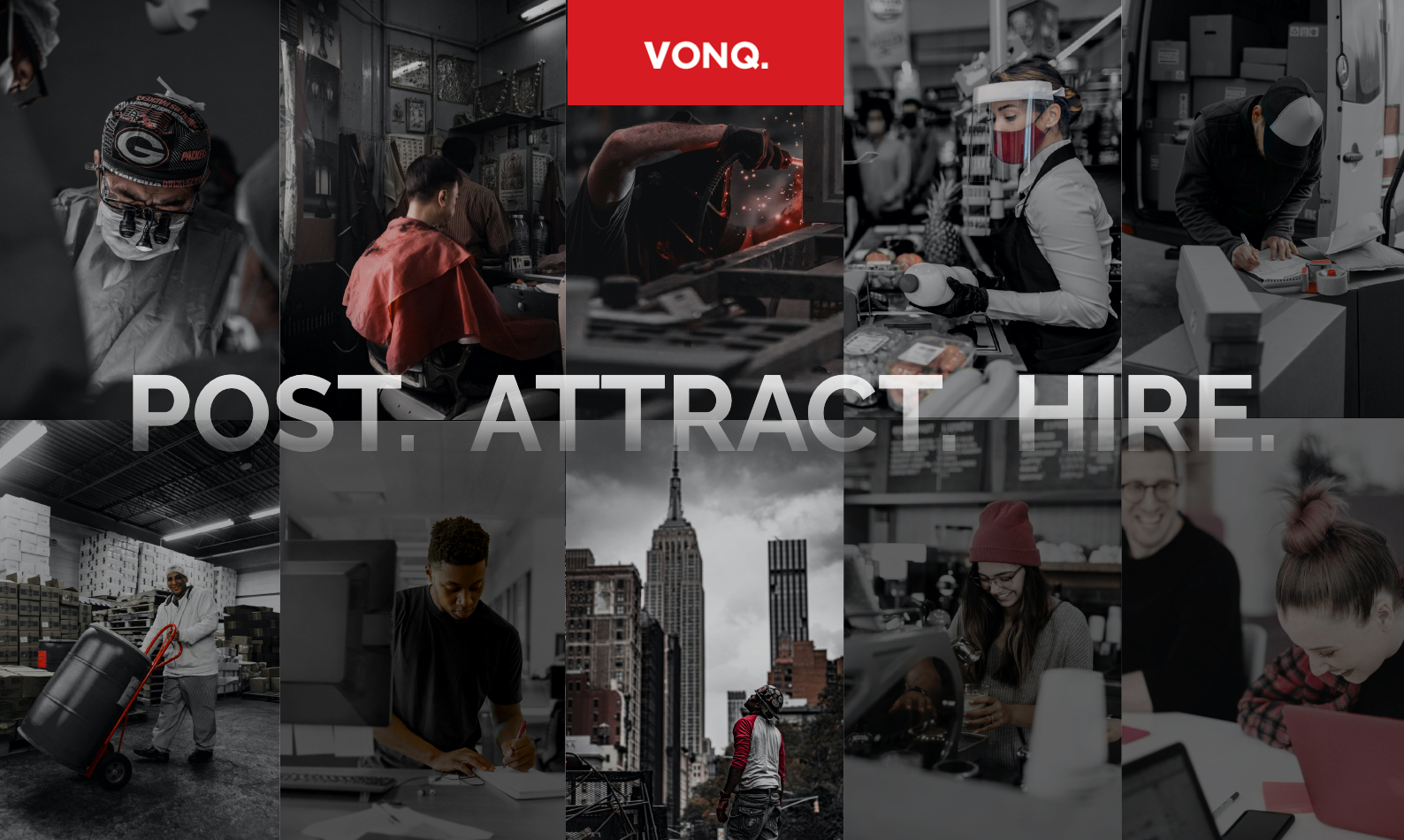 "VONQ's old look was predominantly red with splashes of bright blue and implied, 'VONQ knows how to grab candidates' attention. The new one is sophisticated and simpler. We evolved it from a playful mix of bright colors, to a crisp palette of red, black and white to show that VONQ is confident and exactly where it needs to be: trailblazing job distribution technology and optimizing hiring ROI for enterprises."
"We're inspired by the people-centric work of our 5000 media partners, 80 integration partners and over a 1000 customers including over 25 Global Fortune 500 companies. They rely on VONQ every day to reduce complexity, advertise jobs and effectively generate candidates. They are the inspiration for our new vision to simplify hiring for everybody, so that great teams can come together faster. At the center of it all, we're reminded that these different players come together to achieve a common goal: to bring the right candidate to the right team," explains Arno.
VONQ accelerates ahead with new VONQ Suites for enterprise job distribution
With the completion of the integration of IGB, which VONQ acquired last November, the new brand reflects the growing VONQ Group.

"We're introducing our expanded product portfolio: VONQ Suites. Our product suites increase value by focusing on optimization early on. Through data-driven reports and media recommendations, programmatic advertising and full automation of the job distribution process, large organizations are no longer confronted with time-consuming but necessary job posting tasks," says CEO Arno Schäfer. 
"VONQ empowers them with data to focus on the strategic and ROI aspects of recruiting, like consolidating media contracts, optimizing media mixes and job descriptions, and setting the foundation for diversity in their workforces. With each VONQ product suite, the focus is brought back to the areas of enterprise recruiting that have strategic and financial importance to the business."
Meet the VONQ Suites
For every company and industry we have a matching solution and an expert team behind it. You're covered whether it's 30 positions you need to fill or 30,000. Five target groups or 50, in one country or global. Whether you have jobs to advertise or an employer brand to lift, you can VONQ it with:
"Over the past 1.5 years, we've seen just how important it is for companies to be able to create reliable and effective digital processes. VONQ's job distribution suites keep going where other job posting technologies stop. From native programmatic advertising to channel recommendations, VONQ suites are built from the ground up with data-driven artificial intelligence. Put into user-friendly features and easy-to-understand reports, VONQ empowers companies with actionable data to continuously optimize candidate journeys and ROI."
Recently, VONQ was recognized as a Core Leader by the Fosway Group in the 2021 Fosway 9-GridTM for Talent Acquisition. Positive customer feedback played a key role in earning VONQ the recognition. The data-driven job distribution and optimization reports in all our solutions can drive an entire business forward, as recruiters and HR teams post jobs, attract and hire new team members faster.
POST. ATTRACT. ACHIEVE
VONQ will launch a new website this year as part of the rebrand and bring it's optimization suites to the United States. By the end of 2021, VONQ will have blazed a trail deep into the era of HR digital transformation.