Recruitment Marketing during the 'corona crisis' cont.
What does the data tell us? And what does this mean for you as an employer?
In a previous blog post, we asked the question 'Should you continue to invest in recruitment marketing during the corona crisis' The answer was 'yes' (and perhaps more than ever before). That blog focused on the past, here we will look at what is happening right now!
In this blog we hope to help you get the most out of your employer brand, even now! This blog is backed up by data, trends, and developments that VONQ are seeing in online recruitment marketing campaigns. 
Text: Bart Meijering & Marlot Oortman |
Editing: Quirijn van der Haven  |
Data: Google & VONQ
The coronavirus outbreak affects everything and everyone. Public health, the economy and therefore the recruitment landscape. At the time of writing, week 3 of the 'intelligent lockdown' is dawning and the effects are beginning to become increasingly visible in the data.
Effect of corona on recruitment marketing
Employers aren't stopping recruitment, they're making adjustments
Recruitment campaign design is looked at more critically
Slogans are looked at more critically
The target group is mapped better
The message is sometimes adjusted
What we also see, and what emerges from the conversations with our customers and partners, is that during this crisis time the current recruitment process within the organization is strongly taken into account. In hospitals, we see new campaigns and adjustments to the current recruitment process, such as a shortened application process and a specific "corona contract".
Werf & reports that 6 out of 10 employers had said they had not yet stopped recruitment activities. 4 out of 10 have a hiring freeze or recruiting only through the mission-critical profiles.
Candidates shift from active to passive
Candidates go from active to passive, opt for certainty
Search behavior is adjusted: words such as 'jobs' are searched less. You can see in the image below that the search term 'Jobs' has been dropping since 20th March.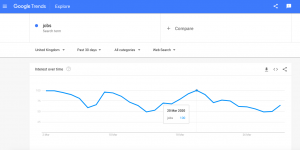 On the other hand, we see that more people are online. There are opportunities here because if you remain online and continue to market your employer brand during a crisis you can reach more people and stay top of mind. You might not get applicants immediately but it is wise to remain visible among your target group and to continuously work on your employer brand. So you have a higher Return on Attention .
" Return on Attention – By this we mean that you stand out extra, without incurring extra costs, because the competition stops or is sitting still. If you show that you do recruit, you come across to the candidates (and customers) as a strong and solid company. If you, as a potential candidate, now see 2 brands instead of 10, your choice has been made much faster. "
Online campaigns - lower costs and more reach
Contrary to what you might think, we see positive results in the data for online recruitment campaigns.
Lower costs and more reach
Why is that? Because more people use online media and because other companies pause advertising, costs are reduced, which makes it cheaper to advertise. See below the interesting trend in the Cost per Mile Social Media chart.
This ensures that a campaign reach is even greater with the same or even less budget! We see this mainly happening with awareness channels and the delivery of advertisements.
What does this mean to you?
Our data proves that you now have better conditions and can advertise cheaper. But you might have to change the way you communicate. The change from active to passive candidates means a shift in the candidate journey. More focus should be given to the awareness phase.
How do you continue to work on your online visibility?
Looking at the data and developments, it is more important than ever to hold the attention of your target group. For example, if you do this via display marketing there are now great cost-saving benefits to be had. In addition, you can build a 'remarketing pool' or network. When the time comes to start recruiting again, you can immediately anticipate this and you will have a talent pool built up which you can connect with. You have the time to get it right now and it will mean less work in the long run.
Our message to you is clear;
Don't stop all recruitment marketing activities during a crisis as there are always some benefits to be had.
Use this time to build an audience or hold the attention of your audience. Show who you are as a company, how you deal with this situation and share interesting content with your target group. Check out our previous blogs with feel-good recruitment trends and our recruitment tips in times of corona.
Do you want to know more or get some free advice?