Get Full Insights Into Your Candidate Journey - From Source To Hire - For Free With Campaign Performance
You can now activate for free the newly-added Campaign Performance Add-on  at VONQ's Job Marketing to track your full candidate journey: everything from source to hire.
Relying on data to make decisions takes the guesswork out of your recruitment marketing process. It helps you gain a deeper understanding of the labor market, predict the future, and plan more effectively. No surprise that for more than 50% of recruitment professionals in Europe (European Recruitment Trends 2019 Survey by VONQ), collecting and measuring candidate data will be a top priority in 2019. What type of data, though? And how to easily collect and make sense of it?
What's new at VONQ's Job Marketing?
We now offer you Campaign Performance at the Job Marketing to better understand and measure your full candidate journey. Easy to activate and for free! So, let's see what the newly-added Campaign Performance is all about!
Get full funnel insights: from source to hire
You can now easily track, measure and understand your full candidate journey – from the source all the way to the hire:
Tracking those steps of the candidate engagement will help you find the answers to: Which is your top source for attracting applicants?; In what moment your candidates drop off the most?; Is your application form too long?; Are you targeting the right candidates?; Which part of the candidate journey you can optimise?; What is your overall conversion rate?; and many more.

See where your candidates come from
To avoid the old-fashioned recruitment approach of simply spray and pray, you need to know where your applicants come from, so we capture the sources – that is, channels – from which candidates are visiting your pages and how they move through your career site.
Knowing your top performing channels allows you to optimise your media budget, make smart decisions based on data insights, and boost your employer brand awareness among your target audience.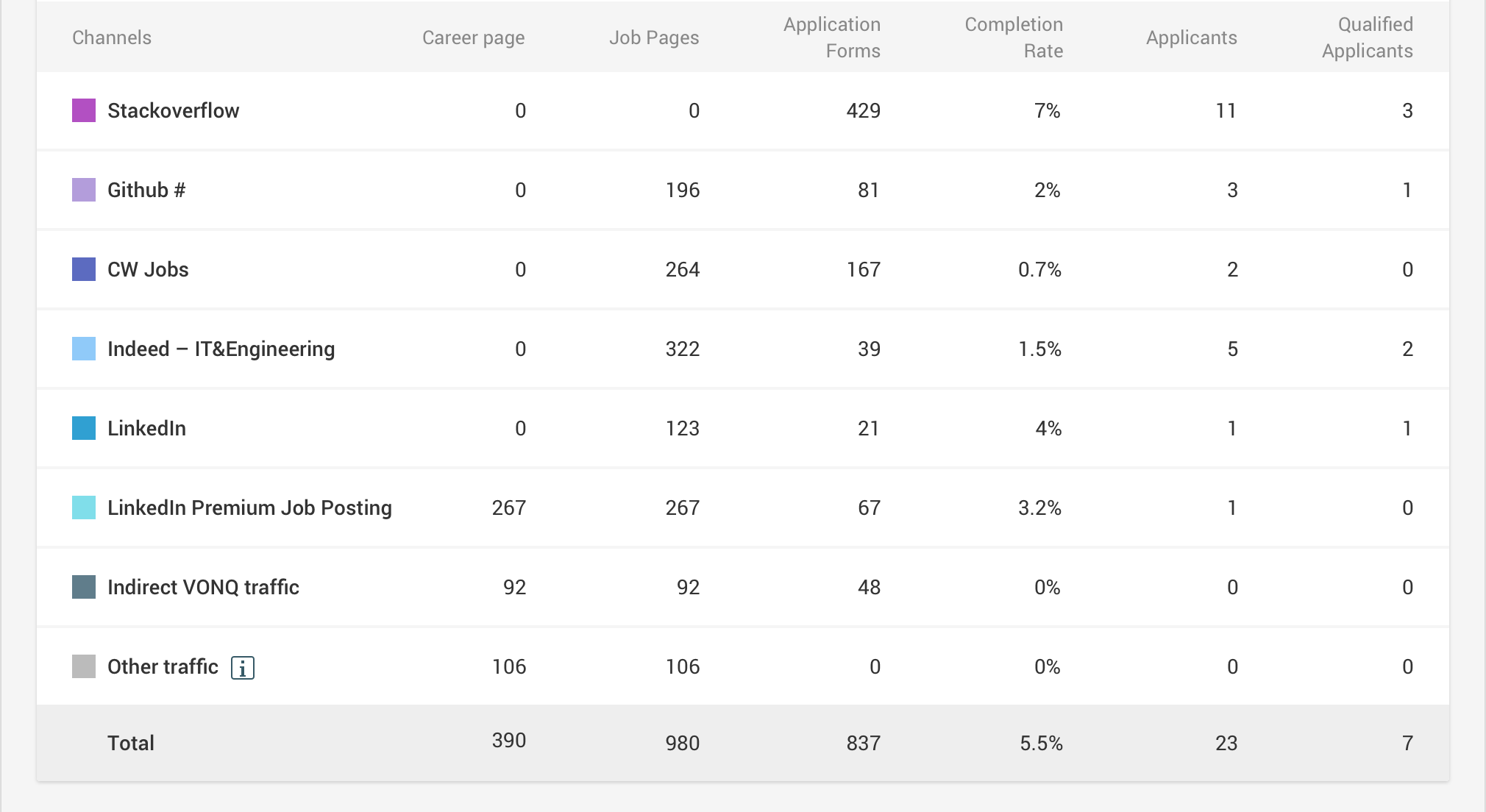 Get a pre-set dashboard to visualise only relevant data
Often, the challenge is not mining data, it's understanding it.
Having an easy-to-grasp, intuitive dashboard is key to quickly interpret and draw conclusions from your data results. That is why the Campaign Performance dashboard provides relevant data only – for you and your specific recruitment marketing efforts. So, no need to configure it yourself, we take care of that for you.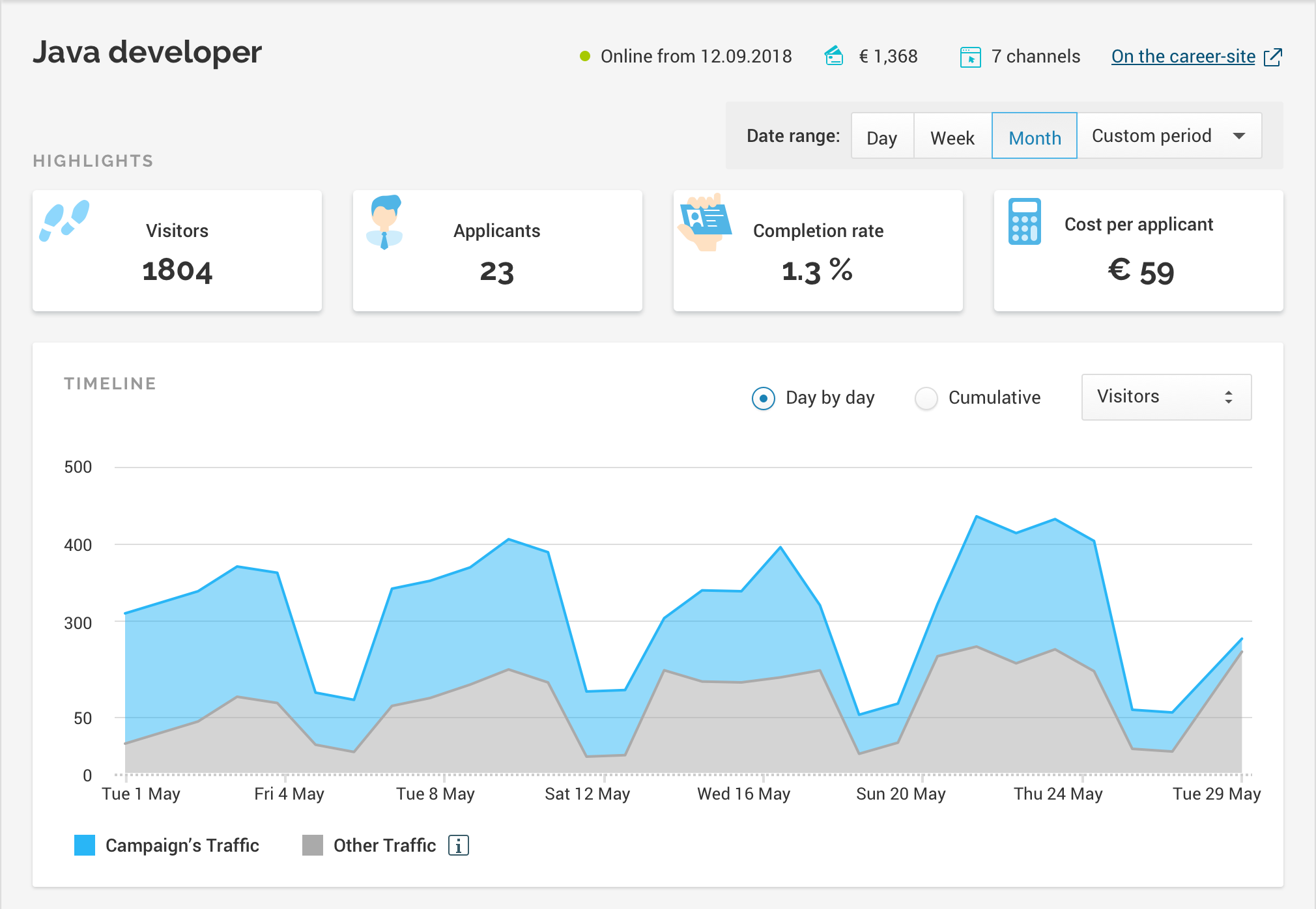 I'm already using Google Analytics. How can I further benefit from Campaign Performance?
I'm already getting data insights from my ATS. How can I further benefit from Campaign Performance?
I'm ready to get started with Campaign Performance! What shall I do?
Getting started with Campaign Performance is easy as 1, 2, 3! All you need to do is 1) log into your Job Marketing account, 2) click on the tab Analytics, and 3) click on the Get Started button. You'll then be guided through the simple process of activating RA.
Get Campaign Performance for free!
We can't wait to get you started, so go ahead and give it a try today!
Click on the button below to sign into your Job Marketing account, where you'll find the Analytics tab and the button Get started to try RA for free: