Job Boards To Find Data Scientists In The UK (The Definitive List)
Plus data on the state of the Data Science job market in the UK
Data Scientists are unusual people, some might say. They are scarce and business demand for them is increasing by the day – after all, we live in the age of data. That makes it hard for employers to find them. And even though the curve has flattened a bit, it is clear that Data science is still on the rise in the UK – see the Google search traffic in the UK for Data Science and Machine Learning over the last 5 years.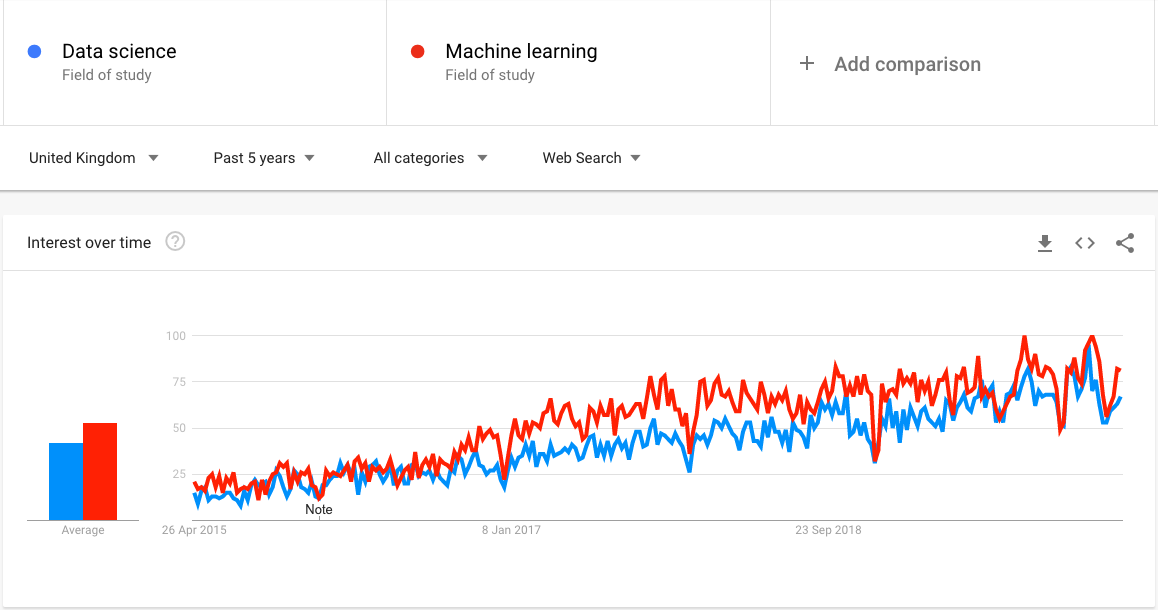 So, let's make sure that you are up for a great start with the definitive list of job boards to find data scientists in the UK. But first…
The state of the Data Science job market in the UK
Let's look at some data on the UK Data Science & Analytics Job Market in 2019 (a report by DataCareer) and see where the demand is at its highest – see, know your market, know your competitors kind of facts 😉
Python and Data Analytics in high demand
Python is the leading trend in job offers in the UK. That's probably because almost every data-related role requires knowledge of Python – it's become the must-have language for data scientists and data analysts.
Junior vs Senior positions comparison
The data shows that there are more job offers for Seniors in the UK, but at the same time, they remain open longer.
London, Cambridge, Edinburgh and Manchester offer the most jobs
The majority of job orders are concentrated in England (91%), while other states account only for 14% (Wales 2% and Scotland 8%) and not surprisingly, London accounts for more than 50% of the job openings. 
The most popular UK cities for Data Science job offers are London, Cambridge, Edinburgh, and Manchester. 
A large number of offerings is from scientific and research institutions, which explains the popularity of Mathematics, Statistics, and R directions.
And now: The definitive list of job boards to find data scientists in the UK
Kaggle is one of the world's largest communities of data scientists, statisticians, and machine learning engineers. The site claims to be 'Far more than just a job board, Kaggle is a network of data science enthusiasts, offering courses, discussions and competitions'. There are 10.79 million visits every month, only 22% of which are from the US, followed by India, China, the UK and Brazil.
DataCareer helps you find data scientists, statisticians, and machine learning engineers in the UK and Ireland and surrounding countries. With 14,922 monthly visitors, 36,604 monthly page views, 135,892 monthly post views on social media and fully integrated with Google Jobs, the site is a great platform to reach talented data scientists. 
DataScientistJobs is a great resource for professionals from the fields of predictive modelling, machine learning, deep learning, computer vision, natural language processing, speech processing, and artificial intelligence. The job site claims to 'carry the largest number of data science related jobs in the UK, making us the first choice for both employers and candidates.'. With its 25,000 monthly site visitors and the weekly job alert emailed to over 8,000 recipients, on DataScientistJobs you can reach a wide range of professionals, such as: Data Scientists in Market Research, Online Retail, Social Media & Customer Analytics; Data Scientists in Academia; Python, R, Java, Perl, or C/C++, Hadoop, SQL Database/Coding, Statistical Data Modelling, Apache Spark, Machine Learning and AI; and Data Visualisation.
We know all about media channels. And more… Can we help?