Add your external contracts to VONQs Job Marketing with My Contracts
Read this post in German and Dutch.
With the My Contracts Add-on feature, you have the option to add your own framework contracts that you signed with job boards to Job Marketing. 
The right media mix, consisting of job boards, niche websites, social media and online communities is crucial for recruiting success. To reach your ideal candidate, you publish ads on several media and most likely have agreements with individual job boards and social media providers like Indeed and LinkedIn. The individual delivery and placement of your job ad takes a lot of time.
So the less manual effort you put into placing job ads, the more time you can invest in qualifying applicants and kick-off new job campaigns.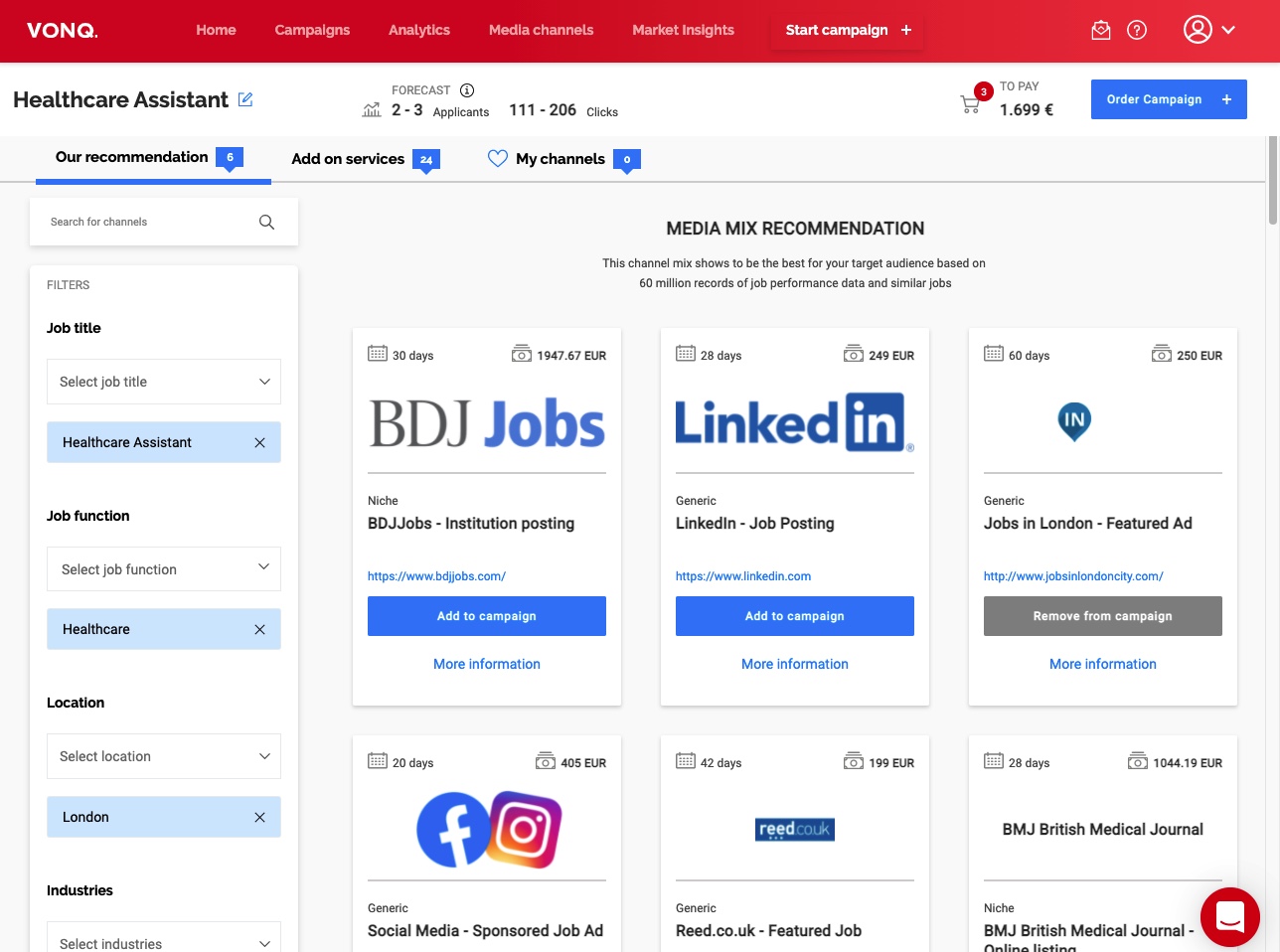 Setting up My Contracts in VONQ's Job Marketing Platform
If you want to integrate your own external contracts into the platform, first contact your VONQ Customer Success Manager. Together they'll check with you if your channel(s) are available for integration.
Please note: We charge a one-time setup fee and a handling fee per channel in your My Contracts Add-on. Depending on your subscription model, you can integrate one or more of your own contracts in the platform. Your advantages are fast multi-posting on all channels directly from your Job Marketing account.
How to add your own media to your job marketing campaigns
Once your own contracts are available in the platform, log in to your account and click "Start campaign." After you enter the job title, job function and location and click "Get recommendation", the My Contracts tab will appear at the top of the media marketplace. This add-on is only visible after the channels have been successfully integrated.
Click on the tab and select the media channel(s) you want to add to your campaign. You can combine media in the VONQ portfolio together with your own contracts in the shopping cart. 
As soon as you have added your own contracts, VONQ channels and optional additional services to your shopping cart, you can complete your order. We'll take care of delivering your job ads to the selected job boards. No further effort is required on your part. 
As soon as your job ad is published, we will inform you by email. The setup and handling fee for external contracts will be billed together with your other booked media via your desired payment method. 
Ready to get started with My Channels?