Riwal: Insights into your full candidate journey with recruitment analytics!
Riwal, originally a family business, can proudly call itself a true expert in the fields of aerial work platforms, telehandlers and forklifts. In recent years, Riwal has seen explosive growth, now finding themselves an international organisation with 67 branches in 16 different countries. By constantly investing in the right people, Riwal has been able to achieve this growth. We spoke to Frances Kool, HR Advisor at Riwal, about her challenge to find the right people and how Recruitment Technology has helped her create a business case to use Recruitment Marketing within the company.
Using marketing more to reach scarce talents
From its head office in Dordrecht, the HR department supports the various countries for which personnel are recruited. Riwal mainly used agencies to recruit personnel. Quite a challenge to change this reasonably traditional mindset of recruiting. Frances explains: "I have been working for Riwal since May 2018 and, as a new colleague, wanted to make a real difference. On the one hand this meant thinking about putting ourselves on the map better as an organisation. Secondly, I wanted to show my added value as a recruitment professional."
Creating awareness of the current job market was a good first step to also take a close look at the current use of recruitment techniques. Frances continues: "What you notice is that the focus is often on quantity and not on quality. You can receive 50 applications, but if I then have to reject 47 because the quality isn't good, it takes me a lot of time. Especially with the current market where specialist roles are scarce and talents show passive behaviour, other means are needed to reach the right talent. Together with the hiring managers, I come up with a recruitment plan for each open position. I want to bring more marketing into the mix so that we can make our message visible on the right channels, targeted at specific groups."
Getting insight into the best performing channels with Recruitment Marketing
The use of marketing to recruit new talents was initially met with some scepticism. Frances explains: "I was lucky to be given the freedom to launch my first marketing campaign via the VONQ Job Marketing Platform. I mainly use the platform for our specialist roles. Not only in the Netherlands, but also in the UK and Spain, for example. I show Hiring Managers older campaigns and make them aware of the fact that we've found that colleague who's been in the marketing department for 5 months now, through the marketing campaign. This way, I've been able to create real support within the company. You now notice my colleagues rely on my expertise here."
Recently, Riwal also started using the new Recruitment Analytics feature through the platform. Frances continues: "We've recently begun using the Recruitment Analytics dashboard, (easily) installing the tracking codes on our career website. With this data, I can see where the visitors of our career website come from, and which candidates have completed the full application process. This gives me insight into the quality of the job vacancy text, as well as in the candidates' application process. The next step is to integrate an ATS system into the platform, so that we can also map out the actual hires. I can now internally account for the costs I use for recruitment marketing. This makes it easier to complete my business case every time to, instead of an agency, use recruitment marketing for open positions."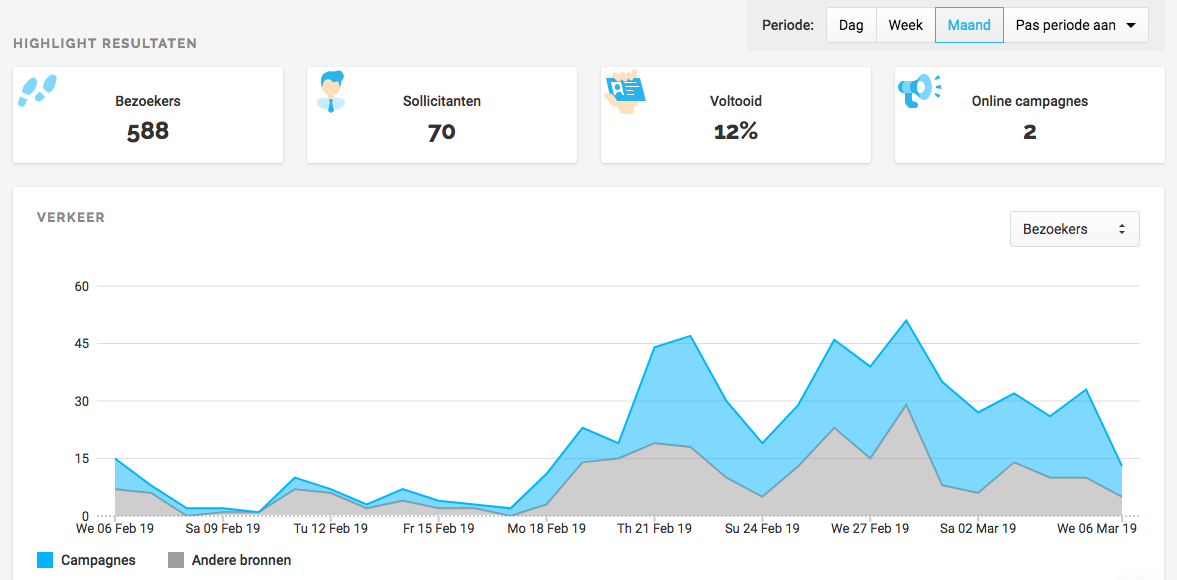 Filling 43% of vacancies with Recruitment Marketing
With the help of its own network and the use of recruitment marketing campaigns, in 2018 Riwal was able to fill 40% more roles than in 2017. The cost-saving aspect gave Frances the opportunity to show the added value of smart recruits. Frances explains: "By using recruitment marketing campaigns, we have been able to fill 43% of our vacancies via the Job Marketing Platform of VONQ. We would have exceeded our recruitment budget by 80% if we had to recruit these candidates through an agency. So the changing labour market really forces you to use different recruitment techniques. For 2019 I have set myself the goal of filling 90% of our specialist roles through recruitment marketing." Is this feasible? "This year I want to see if we can reach our IT target group through recruitment marketing. At the moment we mainly use agencies and our own network for this purpose, but this is not really working well, as this is an inactive target group. When we've created the right message, and send it out through the right place and channel, I am sure we will succeed in reaching these talents with recruitment marketing."
Want to get started with Recruitment Analytics?
Register for the Job Marketing Platform for free now and create your first Recruitment Marketing campaign today.
Already a user of the Job Marketing Platform? Login to the platform, go to the analytics tab and follow the steps to install the tracking codes.
Happy Recruiting!