Data-driven recruiting - Where do you start?
Data is crucial to your recruitment strategy, you don't want to make decisions blindly. However, it's overwhelming at times. I caught up with Jos van der Kooij, Recruitment Analytics expert at VONQ, to ask him some questions I had about how to navigate, measure, interpret, and optimise recruitment data. 
Last week, we shared data on how you can achieve more visibility and more reach with your job advertising. Our data specialists shared key findings from each stage of the AIDA (Awareness, Interest, Desire, and Action) funnel plus tips on how you can reap the benefits of your employer branding activities and job ad spend. 
Download the full report here!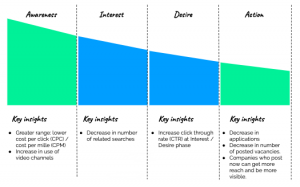 Like advertising, you don't want to make decisions blindly – you want to have systems in place to prove that what you are doing is working…or isn't. I caught up with Jos van der Kooij, Recruitment Analytics expert at VONQ who was able to answer some questions I had on how to navigate, measure, interpret, and optimise recruitment data. 
Question: So, what's the best way to start gathering and using your data? 
Jos: There are a lot of 'tracking tools' on the market to gather data. The best known and most used is Google Analytics. However, it can be overwhelming. There's a huge amount of data and not all are relevant. You need a lot of time to 'get the hang of it'. And not everyone has that time.
What our Recruitment Analytics feature does is solve that problem – by really focusing on the most important data that recruiters need.
In a few easy steps, you can implement Recruitment Analytics on your career website and see the source from which visitors are landing on your pages and how they move through your career site. With this, you can see (among other things) how many visitors viewed specific job pages, how many visitors started an application, and how many applied for a specific job.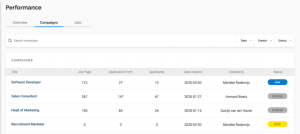 Question: What is the type of data and how do you measure it? 
Jos: The data you see in VONQ Recruitment Analytics is collected with unique tracking links. Extra insights (for example page views and applicants) on your career site can also be tracked.
The type of data you want to look into depends on what your goal is. Within our platform you can check how your campaign channels are performing at different levels of the funnel: how many clicks were generated with a campaign (Awareness), which channels are providing the most visits to your career site or specific job pages (Interest/Desire), which channels were used the most by applicants (Action).
Question: How can you interpret that data to provide actionable recommendations to your hiring managers?
Jos: These insights show you which channels and types of content are performing best for your target audience, so you can make data-driven decisions for your next campaign, copy adjustments, or changes in your application process.
I believe the most important part in analyzing data is turning gathered data into relevant information. What does specific data tell me and what can I do with it, what do I need to do with it. 
For example, if the results of a campaign shows you which channels performed the best based on clicks and/or applicants. With that information you can optimize the media mix; maybe social media channels are performing really well, so focusing on the right exposure on those channels is needed. 
Another good example is if there are a lot of visitors starting an application for a specific job but few finish it, the application process might need improvement. Maybe a form is not working properly or there are too many questions so a potential candidate drops off.
Question: And finally, how can you optimise your data? 
Jos: The work in recruitment marketing is never done. Data can tell you what is or isn't working. With that information you can tweak and test new copy, content or processes, and adjust your campaigns accordingly. That will lead to new data and insights, which leads to new tweaks and tests. It's a never ending loop; exactly the reason why I love this work so much!
Thank you Jos!
Want to get started with Recruitment Analytics?