Using 5 online media channels allowed 'Ennatuurlijk' increase job applicants by 387%
Choosing the right job board or online recruitment channel can be a difficult task. Do you post your job ad on Linkedin only or do you need to use more channels? Why posting your job on more than one channel?
Ennatuurlijk looking for an Account Manager
Just recently, as part of my work as an online marketing recruitment consultant, I started working on a job marketing campaign for an Account Manager vacancy. The client, Ennatuurlijk, is a small Dutch business active in the energy sector next to multinationals such as Eneco and Nuon. Ennatuurlijk's goal was to advertise their openings in a way which would allow them to select the best talent on their own. But how do you create a successful job marketing campaign? How do you guarantee that you will receive enough high quality applications?
1) Analyzing the Job Ad
First, you start by analyzing the vacancy text. How 'complex' is the profile of the applicants your company wants to hire? Which level of education do you ask for? How many years of relevant work experience does an applicant need? This way you can carefully draft an idea of how many applications you need to receive before you fill in this vacancy. From this point on, with the help of the benchmark data in our Job Marketing Platform (derived from previous campaigns for similar roles), I was able to verify predictions with results from previous campaigns. I approached this by filtering on 'Account Management,' 'Bachelor,' 'Energy' and, of course, region. The output results suggested which job boards would perform best for this job candidate group.
Secondly, you move on to estimating how active or passive your target audience is. Speaking from personal experience, I know how difficult it usually is to find highly talented Account Managers. There is always a chance that some of your ideal candidates are actively searching for jobs, but obviously you don't want to put all your eggs in one basket.
2) Reaching the active audience
As part of the campaign, we used five different channels to promote the Job Ad. Although we relied heavily on the benchmark data of VONQ when choosing the right channels, in this particular case it would have been possible to easily come up with the channels based on experience too. However, one won't be capable of selecting the best channels without the help of data in the cases when your audience is spread across numerous smaller niche job boards and various websites (e.g. highly specialized technicians and IT professionals, among others).
We shared the job vacancies on Linkedin because we discovered that Account Managers are using this social media channel for networking in their everyday work. Also, Linkedin serves as a starting point for them when exploring new opportunities. The outcomes clearly showed that the Nationale Vacaturebank scored the first place at the Google ranking when using keywords like 'Account Manager Energy Job' (in Dutch: Accountmanager Energie vacature).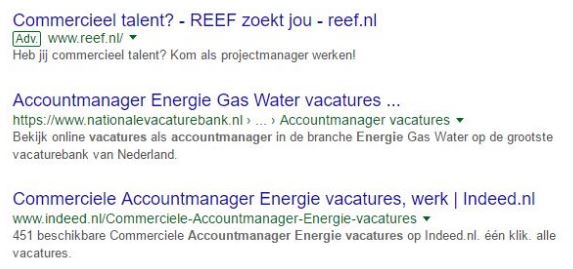 These results confirmed that this job board is a logical first step for candidates who are using Google (73%) to find their vacancies. In addition, StepStone is a relevant job board for more highly educated sales professionals. It is also a good option because of their cross-postings on sites such as SalesMagazine, BNR, the FD and Indeed with a sponsored job Ad.
3) Reaching the passive audience
StepStone's cross-postings on their partner networks such as SalesMagazine is already a way which targets a more passive audience. These are all websites where Account Managers are looking for relevant content or news articles (without necessarily looking for jobs).
We used social media in order to ensure broader reach under the non-active candidates looking for new opportunities. This way one can narrow-target on Account Manager with specific features (education, function, region, etc.). In order to reach these professionals we used Linkedin Directs Ads. We also used Facebook Ads as an additional platform providing a great reach within this target group.
In addition, we also relied on banner Ads advertisement and social media help in building multiple touch points with your audience. Speaking from experience, depending on which target group you want to convert, you will need between 7 and 12 touch points before they actually read your vacancy text. It is important to remember that you need to stay on top of mind among the active as well as the passive audiences. All these efforts increase your chances of receiving more and better quality applications.
4) Outcomes of the campaign
Below is an overview of the data we collected about the campaign. On the left of the application form (in Dutch: Sollicitatieformulier) you see the vacancy text clicks (on a job board) on the application form. In the middle, under Applications (in Dutch: Sollicitaties), you see the number of people who have actually applied for the job. On the right, you see the vacancy text clicks from the Linkedin & Facebook Ads.

We can clearly see that the job ad accumulated 31 applications in total. The Linkedin & Facebook Ads generated 501 clicks on the vacancy text, which resulted in 4 direct applications. Speaking from personal experience, that's a good result especially if you take into consideration that those people were most likely not even actively searching. In addition, it generated significant boost for the job board Ads as it added more touch points and visibility.
Companies that work with structural social media and employer branding campaigns tend to see an increase of applications from the passive audiences. That ensures a greater amount of quality candidates in your pipeline. However, in the case of Ennatuurlijk it wasn't possible to work with an integral media approach because the company was looking for one candidate only.
The job boards added up 27 extra applicants. It is often the case that the number of applications is higher on a job board. The reason for that is that there are people out there who really 'need' to apply. That can affect the quality rate of your candidate pipeline, but they are needed in order to ensure a solid pipeline of candidates.
As a result of the campaign, Ennatuurlijk invited 5 candidates to their first round of interviews. Two of them were invited to the second round, and one of them was hired. Overall, this is a good result for a company which is not very well known in the market, yet still has a strict hiring policy in place and is interested in hiring top talent only.
5) Main takeaway: Advertise on multiple channels!
Let's take a moment and imagine we have posted the job vacancy on Linkedin only? Besides the fact that advertising on multiple job boards and social media has a positive effect on the campaign (your job ads will appear more frequently, therefore it is more likely that candidates read your job description), with Linkedin we would have received eight applications only.
By using four additional channels in a custom made job marketing campaign, we managed to increase this number (31) with 387%. Keeping in mind the complexity of the function and the importance of the culture-fit for Ennatuurlijk, the chances of having eight applications that would fulfil this position would initially seem quite thin. In addition, they would have needed to start all over again with another job marketing campaign or would have needed to use a recruitment agency.
To sum up, my advice for more complex job profiles would be to advertise those Ads on at least three different online channels. Do you have a relatively unknown employer brand? Are you looking for hiring a complex job candidate profile? Is your target audience mainly passive? If you've checked the majority of these boxes, then you need to be advertising on multiple channels in order to ensure that you will get enough quality candidates in your pipeline.
Try it yourself!
Curious how we can help you reach your target audience? Let us help you, request an online media advice!