My Contracts: voeg je eigen mediacontracten toe aan je campagnes
Vandaag lanceren we My Contracts, deze nieuwe feature geeft je de mogelijkheid je eigen contracten toe te voegen aan je campagnes.
Het is een simpele propositie: je promoot je vacatures op verschillende mediaplatforms en misschien heb je wel je eigen contractafspraken met deze partijen. Als recruiter, hoe minder je je bezig hoeft te houden met het plaatsen van vacatures op al deze kanalen, hoe meer tijd je over hebt voor de echt belangrijke zaken. Of dat nu is het versturen van e-mails naar potentiële kandidaten of het telefonisch opvolgen van sollicitanten.
Met My Contracts, kan je het distribueren van je vacatures aan ons overlaten. Of dit nu onze voorgestelde mediakanalen zijn of de kanalen waar je een eigen mediacontract mee hebt.
We hebben een lijst beschikbaar van alle mediakanalen waar we je vacature kunnen plaatsen. Neem contact op met je VONQ contactpersoon en kom meer te weten over ons portfolio en de beschikbare kanalen. Zo kan jij je meer focussen op het bereiken van je ideale kandidaat.
Hieronder zie je hoe het eruit ziet: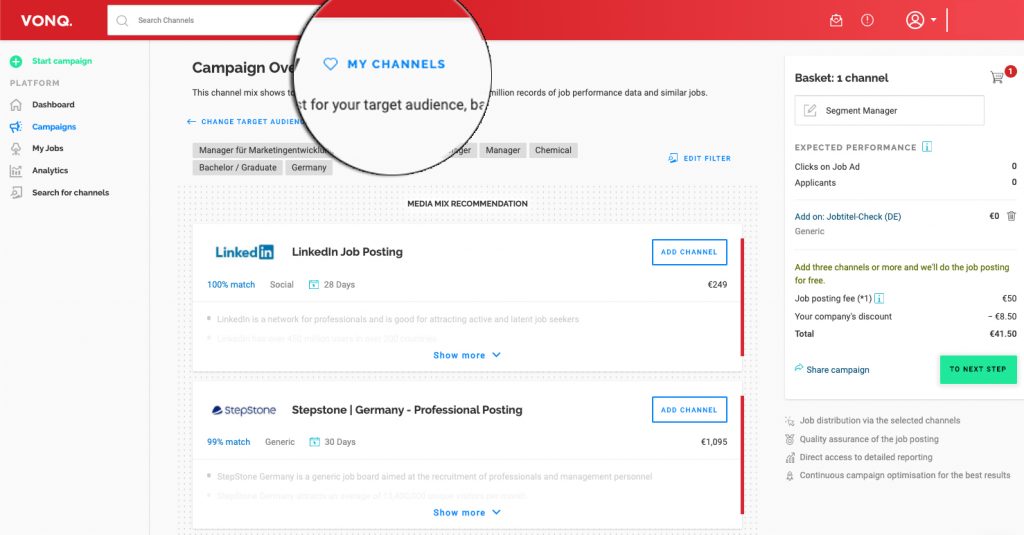 Als je al een VONQ account hebt, neem contact op met je VONQ contactpersoon om ervoor te zorgen dat je mediacontracten worden toegevoegd aan je account of
lees hier meer
. 
Als je op zoek bent naar geschikte kandidaten en wilt weten hoe je gemakkelijk op relevante kanalen je vacatures kunt uitzetten? Schrijf je hier in voor een gratis account.