Hoe het St. Antonius Ziekenhuis (ex)zorgprofessionals oproept om te helpen.
En waarom dat zo snel mogelijk moet!
Het coronavirus raakt iedereen en waar bij diverse bedrijven de werving en het werk stil zijn gevallen, draaien andere organisaties nu juist op volle toeren. Want er is al een grote behoefte aan extra handen in de zorg, nu nog meer dan ooit. Het St. Antonius Ziekenhuis doet dit met een speciale landingspagina en campagne die (ex)zorgprofessionals oproept waar mogelijk te assisteren in het tegengaan van dit virus.
Hoe sneller – hoe beter. Dat moet het St. Antonius Ziekenhuis gedacht hebben toen ook in Nederland strikte maatregelen werden genomen vanwege het coronavirus. Waar aan de Nederlanders gevraagd wordt thuis te werken en het huis zo min mogelijk te verlaten, draait het medisch personeel overuren en komen zij handen tekort. Daarom kwam het St. Antonius Ziekenhuis direct in actie.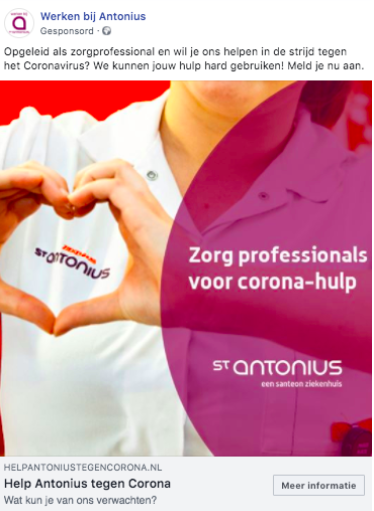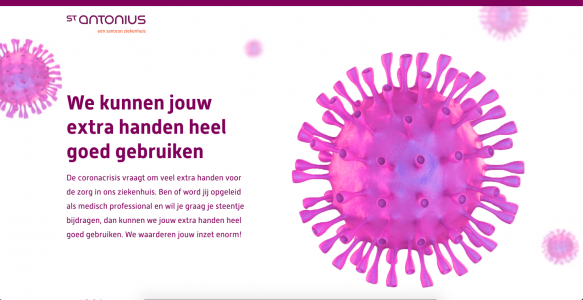 In samenwerking met VONQ stonden binnen 48 uur de speciale landingspagina  en campagnes op Facebook en Instagram live. Hiermee roepen ze elke (ex)medische professional op te helpen tegen dit virus. Of je nu gepensioneerd bent, nog in opleiding of wilt komen vrijwilligen: alle beetjes helpen.
Met een verkort sollicitatieproces en een speciaal 'coronacontract' zorgt het ziekenhuis ervoor dat deze zorgprofessionals zo snel mogelijk aan de slag kunnen. 
Wil jij ook bijdragen als arts, verpleegkundige, medisch student of medische ondersteuner? Meld je direct aan bij het St. Antonius Ziekenhuis en help Nederland in de strijd tegen het coronavirus.
Heb je ook hulp nodig bij het snel opzetten van dit soort campagnes? Neem dan vrijblijvend contact op.