Stel nu eenvoudiger dan ooit de juist mediamix samen
Job Marketing gaat over het inzetten van de juiste kanalen om je gewenste doelgroep te bereiken. Job Marketing vereenvoudigt het proces van het selecteren van de juiste mix van mediakanalen. We verbeteren ons platform continu door nieuwe en onderscheidende functionaliteiten toe te voegen. Wat is nieuw?
I. Matching %
Je kan nu gemakkelijk zien hoe geschikt een kanaal is voor jouw gewenste doelgroep. De nieuwe Match % – functionaliteit geeft je een duidelijke indicatie van de relevantie van een kanaal voor jouw campagne.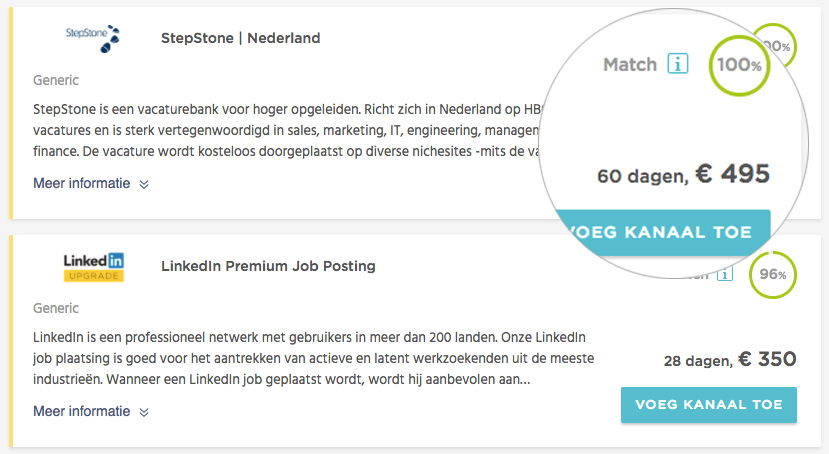 II. Meer Tips en Inline hints
Job Marketing is er om het werk van recruitmentprofessionals effectiever en efficiënter te maken. Daarom hebben we Inline Hints en Tips geïntroduceerd bij onze vorige update: korte stukjes tekst met extra informatie over features en functionaliteit om je te helpen het meeste uit Job Marketing te halen. Hoe beter jij Job Marketing weet te gebruiken, hoe groter de kans is dat jouw job marketing campagne een succes wordt.
Zie hieronder een voorbeeld van Inline Hints: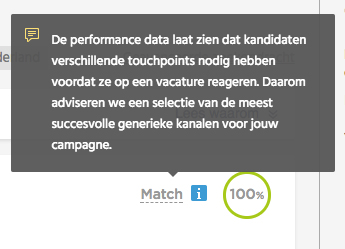 III. Uitgebreide informatie over recruitment mediakanalen
Om je te helpen om betere mediabeslissingen te maken en de meest effectieve mix van mediakanalen voor je gewenste doelgroep samen te stellen, voegen we nieuwe, nuttige informatie toe aan de kanalen die je kan selecteren. Deze extra kennis helpt je om de juiste keuzes te maken.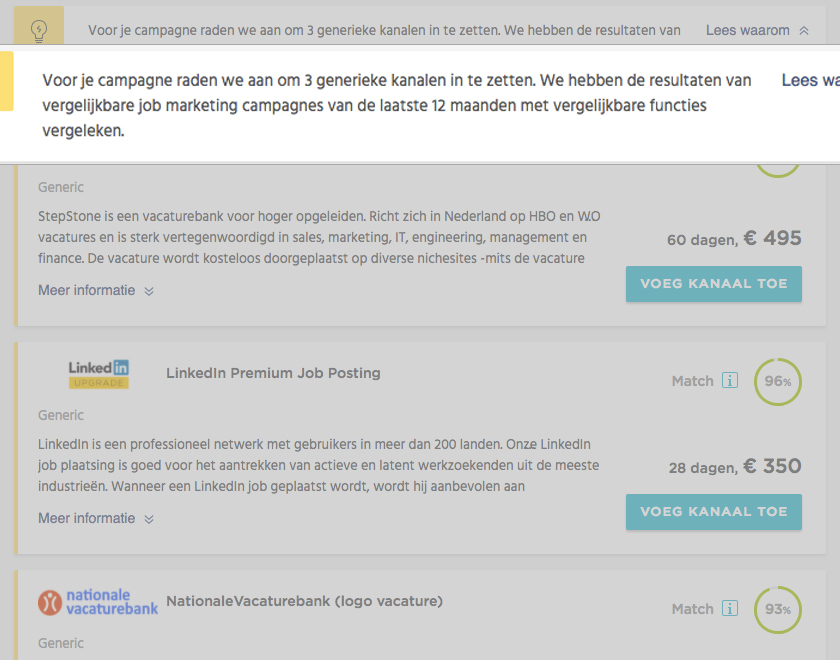 2. Sugesties kanalen
Wanneer je klikt op de button ontvang suggesties, krijg je aanbevelingen over de beste mix van online recruitment mediakanalen om je gewenste doelgroep te bereiken. De gesuggereerde kanalen worden geselecteerd op basis van jouw criteria met behulp van het algoritme van Job Marketing . Om het meeste uit jouw campagne te halen, zal je in het meest van de gevallen je vacature op zowel generieke als niche kanalen moeten verspreiden.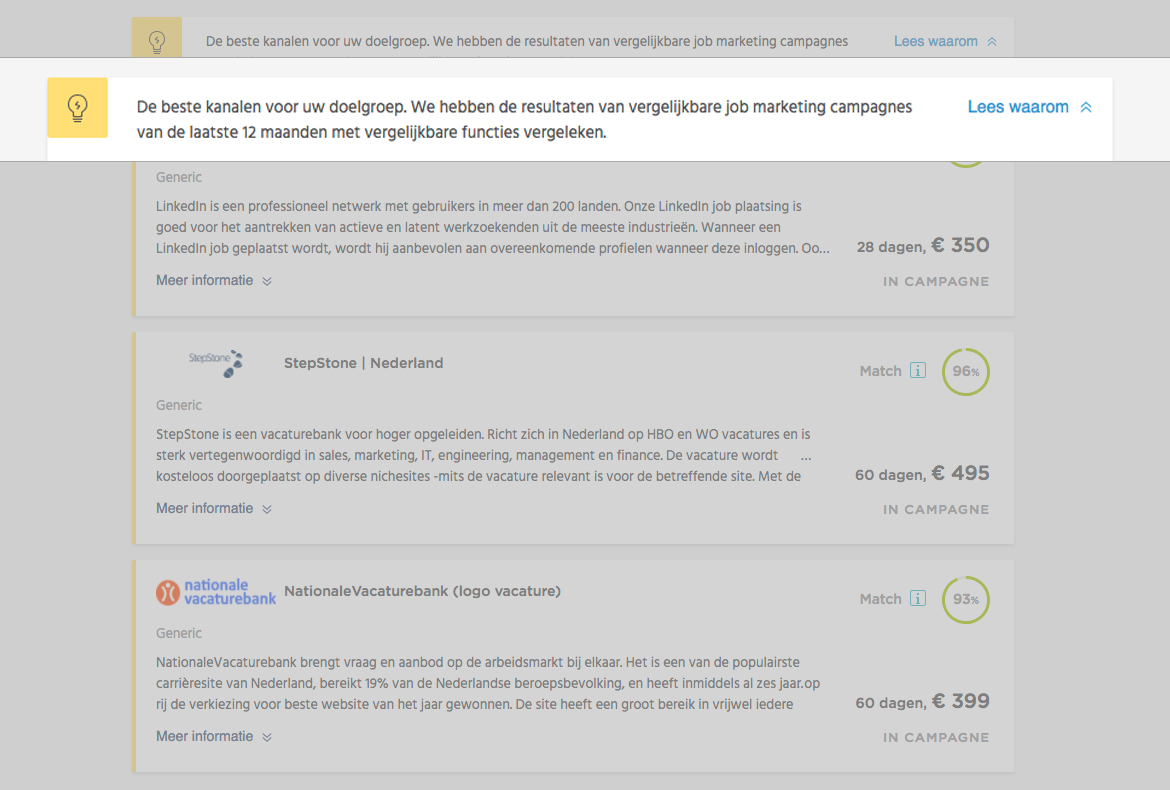 2. Relevante kanalen
Misschien heb je een favoriet kanaal of één die het meest efficiënt blijkt te zijn voor jouw gewenste doelgroep. Of wil je gewoon het bereik van je campagne vergroten? Vergroot je kansen om de ideale kandidaat te bereiken door extra Relevante kanalen toe te voegen.
In Relevante kanalen, onderscheiden we 3 subcategorieën:
A. Branche
Het verspreiden van je vacature op branche-specifieke vacaturesites helpt je naast de actieve, ook de passieve kandidaten te bereiken. Een voorbeeld van een branche-specifiek kanaal is een platform waarop professionals binnen de BioTechnologie actief zijn.
B. Functiecategorie
Je gewenste kandidaten zijn actief op specifieke, zakelijke websites, dus zorg ervoor dat je je vacature ook op deze kanalen verspreid. Het inzetten van een functiecategorie-specifiek kanaal helpt je professionals te targeten binnen het vakgebied waarop jouw vacature van toepassing is.
C. Generiek
Naast de generieke vacaturesite die je aanbevolen krijgt door de Suggesties kanalen, krijg je daarbij nog een aanbeveling in Relevante kanalen. Het toevoegen van nog een generiek kanaal helpt je een nog breder publiek te bereiken en je brand awareness te vergroten.
What's next?
Conversaties komen van twee kanten. Nu we je feedback vertaald hebben naar een update in Job Marketing, zouden we deze conversatie graag voort willen zetten. Je kan contact met ons opnemen via +31 (0)10 2014 888, een mailtje sturen of een bericht sturen via de chat in Job Marketing.
We willen de conversatie met jou graag open houden. Je hoort binnenkort weer van ons over nieuwe functionaliteiten en updates.